More Emiratis graduate from Sandhurst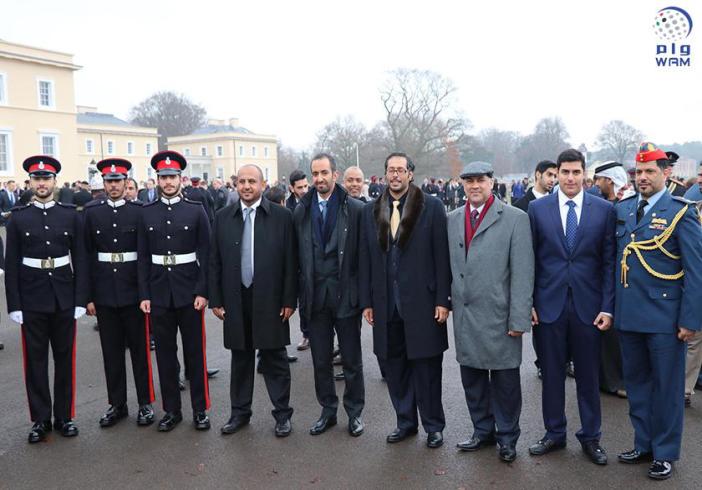 A new cadre of Emiratis, including a Sheikh, have graduated form the Royal Military Academy Sandhurst, RMAS, after completing military training at the world famous training centre.
Graduates including Sheikh Mohammed bin Ahmed bin Hamdan Al Nahyan, Saif Mohammed Al Mulla, and Khalid Saeed Shatit Al Shamsi, were recognised in a ceremony attended by Sheikh Ahmed bin Hamdan bin Mohammed Al Nahyan, Chairman of Emirates Kiteboarding Committee, Sheikh Mohammed bin Surour Al Nahyan, and others.
"Countries attain further glory with the efforts of its loyal and sincere nationals who are highly dedicated to their countries and harness their minds and hearts to serve them. This can only be done through sincere intentions and work," said Sheikh Ahmed bin Hamdan in a statement on the occasion.
Sheikh Mohammed bin Ahmed bin Hamdan thanked his father, Sheikh Ahmed, and the other Emiratis for attending the ceremony.
Sheikh Surour congratulated the graduates, wishing them success in their service of the country.
He stressed a keen interest in attending the event in response to directives from the leadership, President His Highness Sheikh Khalifa bin Zayed Al Nahyan, Vice President, Prime Minister and Ruler of Dubai, His Highness Sheikh Mohammed bin Rashid Al Maktoum, and His Highness Sheikh Mohamed bin Zayed Al Nahyan, Crown Prince of Abu Dhabi and Deputy Supreme Commander of the UAE Armed Forces.
Graduates of the prestigious academy, founded in 1801 and established in 1802, include leaders from Arab and European countries, including members of the Cooperation Council for the Arab States of the Gulf, GCC.
At Sandhurst, cadets receive military training in practical and academic subjects for one year to qualify as commanders in their countries' regular armies.
Follow Emirates 24|7 on Google News.