Mother of the Nation Festival will offer more than 100 interactive activities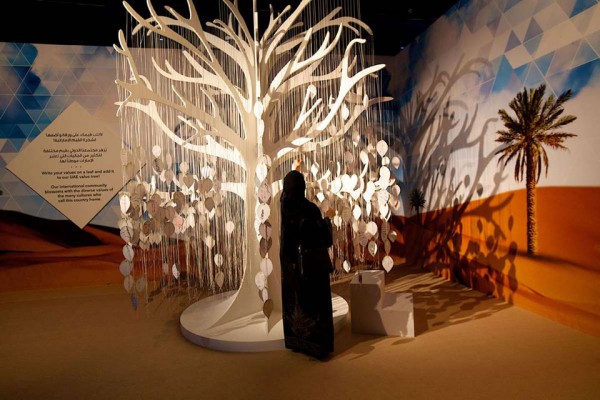 Groundwork for the 2nd Mother of the Nation Festival commenced on Sunday at the Abu Dhabi Corniche, ahead of the festival's official opening on March 26, the organising committee at the Abu Dhabi Tourism and Culture Authority announced yesterday.
Preparations for the festival have started on-schedule, as over one kilometre of the Abu Dhabi Corniche beach will be transformed ahead of the festival's opening, and construction progress is now clearly visible along the designated site for the occasion.
Scheduled to be held from March 26 to April 4, the Mother of the Nation Festival will offer more than 100 activities, including an extensive selection of exhibitions, performances, workshops, food and beverage offerings and exciting events designed to encourage visitors to believe in the significance of a sustainable future.
Residents and visitors of all ages will be given the chance to experience unique concepts in an environment of distinct perspectives as the festival highlights the qualities of sustainability, responsibility, cultural exchange and openness in celebration of the extensive contributions and vision of Sheikha Fatima bint Mubarak, Chairwoman of the General Women's Union, Supreme Chairwoman of the Family Development Foundation and President of the Supreme Council for Motherhood and Childhood.
The festival will include a wide variety of interactive events that are organised across four diverse activity zones: the Happiness Zone, the Progress Zone, the Souq Zone, and the Beach Dining Zone. The centrepiece of the festival, the Mother of the Nation Pavilion, will celebrate the role of women across all aspects of life.
The four zones will collectively form a national cultural and social event that offers visitors a range of exciting new activities for the whole family.
The Happiness Zone has new events such as the Bu Tinah Sea Adventure, a magical adventure with colourful shipwrecked Dhows, and the Tranquil Park, with trees of books can be found in place of leaves, which can be picked from the hanging branches.
The Progress Zone will consist of interactive and multimedia experiences that engage visitors with innovative concepts, encouraging them to think about a brighter future.
An exciting new event this year is the Water Light Graffiti, where visitors can experience the glow of thousands of LEDs in the dazzling interactive installation.
There is even a Virtual Reality Area, where customised content and created virtual reality will bring the whole festival experience together.
The Beach Dining Zone will conduct interactive Chef Challenges this year, where food fanatics and aspiring chefs can participate in cooking competitions against one another.
This year, the Souq Zone will also offer a new selection of traditional shops and international brands, to offer visitors a unique retail experience.
Another exciting new signature event that's not to be missed this year is the PixelPyros, a digital firework display where visitors will have the opportunity to control the large-scale light installation themselves.
Follow Emirates 24|7 on Google News.