Motorists speeding after passing radars to be monitored and fined: Police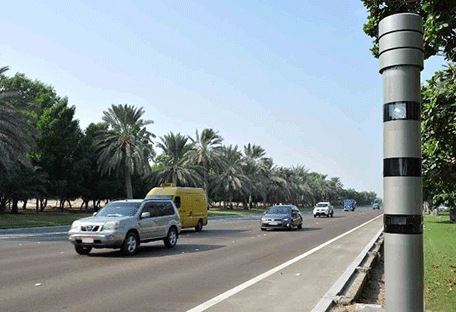 Drivers who reduce their speed near radars and increase it after passing are being monitored and will be fined, Abu Dhabi Police said.

Brigadier Khalifa Mohamed Al Khaili, Deputy Director of the Traffic and Patrols Directorate at the Directorate General of Central Operations at the Abu Dhabi Police, explained that in keeping with the transparency strategy, the Abu Dhabi Police has informed motorists of radars' locations through signage boards on both sides of the road and urged them to reduce speeds to maintain their safety and the safety of other road users.

He said fixed radars were installed at specific locations on the road. These locations were determined following accurate traffic studies about the hotspots that witness a density of traffic accidents and violations. He added that there are mobile radars such as the sniper and mobile radar, which constantly change locations in order to catch those who violate traffic laws and speed limits.

"Surveillance cameras at intersections use a flash-less infrared light in order to catch violators on all lanes. They are 3D thermal cameras that carry out several functions such as reading the license plates of all passing vehicles, determining the numbers and types of passing vehicles, estimating the average speed, and determining the number and direction of pedestrians while traffic signals turn green and red."

Nearly 13,000 vehicles impounded

The Abu Dhabi Police recently seized 12,980 vehicles between January 1 and November 30 last year for exceeding maximum speed limits by more than 60 km/hr in a way that poses a serious threat to the lives of drivers and other road users.

Vehicles have been impounded for a period of one month with a fine of Dh1,000 plus 12 black points.

Recurrent violators are referred to prosecution for the appropriate legal actions.

Road traffic deaths caused by speeding decreased by 27 per cent in the emirate of Abu Dhabi during 2015 compared to 2014, and serious injuries resulting from accidents caused by over speeding declined by 49 per cent.

Brigadier Khalifa attributed the decline to the unrelenting efforts exerted as part of the Abu Dhabi Police's traffic safety strategy in order to reduce excessive speeding on roads by intensifying control and installing more radars and surveillance cameras on traffic lights and intersections; all of which have contributed to improving traffic safety in the emirate.

Moreover, he highlighted the positive impact of control devices such as radars as a deterrent to reckless drivers that contributes to detecting violators. "They also improve traffic safety levels, in a way that reduces violations of legal speed limits; which compromise the lives of all road users," he said; warning against the risks of exceeding speed limits.
Follow Emirates 24|7 on Google News.