Muscle Power: UAE residents pull Boeing 747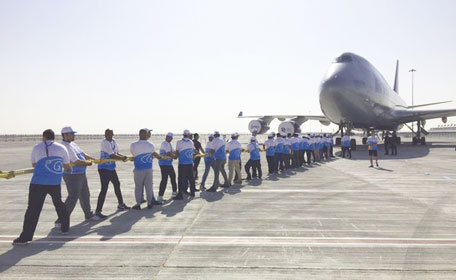 A group of UAE residents pulled a 747 airplane with their hands and sheer determination in a campaign to prevent and treat blindness.
Organised by Dubai Airports, a total of 10 teams from across the airport community to test their collective might as they competed to pull a 747 National Air Cargo plane the furthest distance.
The airplane pulling contest was part of the 'Your Sight, Our Happiness' initiative to raise funds for Orbis, an NGO which works to prevent and treat blindness around the world through training and education, and its flying eye hospital.
فريق من مطارات #دبي يشارك في تحدي سحب طائرة البوينج 747 لاطول مسافة ممكنة pic.twitter.com/cr8MOxgw2Y

— مطارات دبي (@DubaiAirportsAr) March 3, 2016
The teams also contributed Dh1,000 each as donation to Orbis via Red Crescent.
"The plane pulling contest was the highlight event of the day and what it demonstrated was that when people that are passionate about a cause come together, they can achieve the seemingly impossible. It was very heartening to see the entire airport community getting together to support a noble cause and help raise awareness and funds for an organisation that spreads joy and wellbeing to communities in remote corners of the world," said Paul Griffiths, CEO of Dubai Airports, in a statement.
Florence Branchu, Head of Partnerships, Middle East for Orbis said: "The funds raised today will help us reach even more people suffering unnecessarily through avoidable blindness, and help us strengthen eye care services for those who need it most."
Apart from the contest, the event also hosted a special charity luncheon sponsored by Emirates Flight Catering where corporate entities could donate by purchasing tables for Dh10,000 each.
Individuals attending the event were offered the opportunity to sponsor cataract eye surgeries by buying donation coupons worth Dh40 per surgery.
The event was organised at the Dubai Airshow venue at DWC under the patronage of His Highness Sheikh Ahmed Bin Saeed Al Maktoum, President of Dubai Civil Aviation Authority and Chairman of Dubai Airports.
The World Heath Organistation states 285 million people are estimated to be visually impaired worldwide.
While the feat of UAE residents is definitely one for the history books, Canadian Kevin Fast has earned the Guinness World Record title for pulling a plane that weighed 188.83 tonnes.
Follow Emirates 24|7 on Google News.