My blindness is God's boon: Emirati girl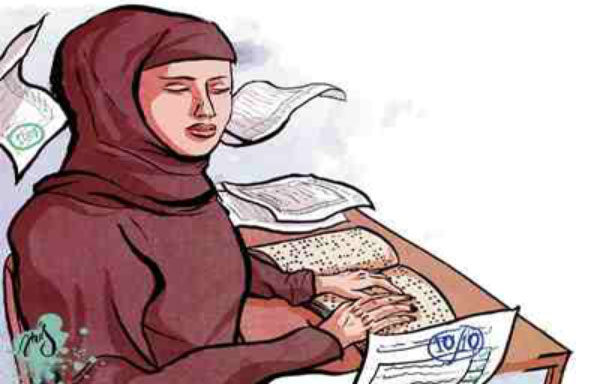 Noura is the only blind girl in her class yet she gets the highest marks every year.
For the Emirati girl does not consider her blindness as a handicap but a boon from God nor does she want any one to feel sorry for her.
Noura, which has just finished as one of the top high school students in the UAE, reveals a defiant and powerful personality in her comments to a local newspaper by saying she just wants to be treated like others and that that she gets very upset when one tells her she will not make it.
Despite her blindness, Noura has remained ahead of all her class mates since she joined school and was one of the top performers in the general secondary examinations last year when she got 98 marks out of 100.
"I have never considered my blindness as a handicap or a bane…on the contrary, I see it as a boon from God…although I am blind, I have outperformed all my class mates," she told Emarat Alyoum daily.
"What upsets me most is that someone would come and point to my blindness as a handicap by saying I won't make it…I can not stand words of pity because I don't want to be treated as being below others…what also upsets me is that some of my teachers do not want sometimes to overburden me because I always feel I am capable of doing everything."
Noura was born in Shahama just outside Abu Dhabi city to a family which includes three other blind members. Her father has died, leaving his elder son, also blind, to look after the family.
Noura said she wants to continue her studies to specialize in psychiatry so she would help handicapped persons. "I want to help and support handicapped persons and those with special needs in order to guide them in life so they will be able to play an active role in the community," she said.
When the newspaper reporter asked her to be photographed, she refused, saying: "There is nothing special about me…I am just a normal person who does not differ from all other girls."
Her school head in Shahama confirmed Noura's intelligence and her refusal to be given a special treatment in class.
"She excelled in class without help from any one…she strongly refuses to be given any special treatment," Suad Al Housani said.
Follow Emirates 24|7 on Google News.