Nahayn bin Mubarak attends Indian Embassy Yoga Day celebrations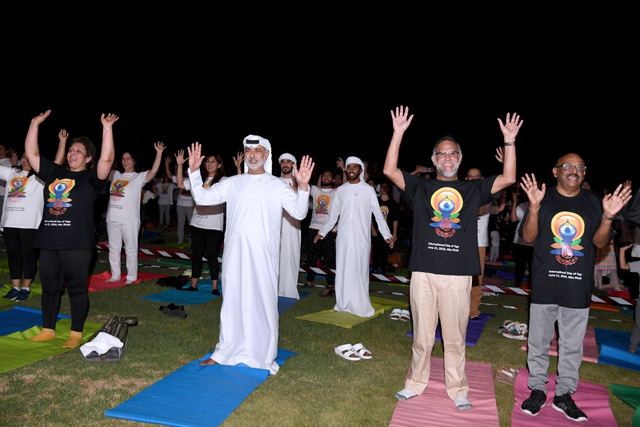 The Embassy of India in Abu Dhabi, in the presence of Sheikh Nahyan bin Mubarak Al Nahyan, Minister of Tolerance, celebrated the 4th International Yoga Day at the Umm AL Emarat park on 21st June 2018. Nearly 5,000 yoga enthusiasts including prominent personalities, diplomats from various countries, Emirati citizens, students and members from the Indian community took part in the Yoga day celebration.
Speaking on the occasion, Sheikh Nahyan said, "Yoga encourages us to discover additional interests and values that we might share with strangers. Yoga leads us to an understanding of others and an informed appreciation of our differences. The ministry supports and applauds events that embrace the spirit of tolerance. Tonight's celebration of yoga is just such an event."
Welcoming the gathering of Yoga enthusiasts to 4th Yoga Day, Indian Ambassador Navdeep Suri, said that the increasing popularity of Yoga throughout the world, was a testimony to its proven health benefits and yoga was a wonderful technology for holistic life and well being.. He thanked the Government of UAE for their kind support in organizing the fourth edition of Yoga Day as in all previous years.
The event had performers do Yoga postures on Arabic music as a tribute to India UAE cultural ties, a talk on the benefits of yoga by a Abu Dhabi based Russian instructor having learnt yoga in India, Desktop Yoga- a gentle and series of exercises based on yoga and designed specifically for officer goers, Power Yoga - an intense form of yoga, Integrative Yoga focusing on postures to increase integration between the left and right brain, mediation and laughter yoga.
Follow Emirates 24|7 on Google News.