Nakheel launches Azure on Palm Jumeirah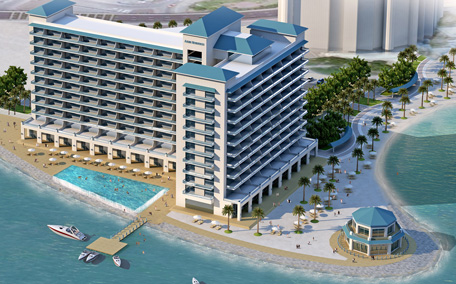 Nakheel, Dubai-based master developer, on Monday launched Azure Residences on the Palm Jumeirah after having sold out all units in the Club Vista Mare project on the launch date earlier this month.
The new project, located on the eastern shoreline at the base of the Palm's trunk, will have 170 apartments spread over a 10-storey building. There will be 140 one-bedroom and 30 two-bedroom units which will have an equipped kitchen and private terrace.
Prices start at Dh2.3 million for the one-bed option and from Dh4.2 million for the two-bed.
One-bed apartments are sized 105 square metres and 130 square metres, respectively. The two beds come in two sizes — 197 square metres and 222 square metres. The unit area includes terrace space. The two-bedroom apartments have a maid's room.
Azure Residences will have its own sea facing infinity pool, a rooftop gym, 266 car parking spaces and mooring facilities for water taxis. It will have nine restaurants, including the Breakwater signature restaurant with 360-degree water and city views.
Construction is expected to begin mid-2013 and completed within two years.
Azure Residences has been designed to maximise energy-efficiency and cost-effectiveness, with individual air-conditioning systems that residents pay for directly as part of their utility bills, meaning lower monthly running costs.
Emirates 24|7 reported earlier that the 33 studio apartments in the Club Vista Mare, a beachfront residential and recreation project on the Palm Jumeirah, were sold out on the launch day itself with investors paying Dh23,000 per square metre.
Ali Rashid Lootah, Chairman, Nakheel, told this website: "We have sold all the 33 units that we had launched today (Sunday) as there is demand for properties on the Palm. Besides, these units were quite reasonably priced."
Construction is scheduled to begin in mid-2013, with anticipated completion by early 2015.
Nakheel will also commence construction on Dh2.5 billion Nakheel Mall on Palm Jumeirah this year and is expected to open it in 2016. The mall will have a gross floor area of 424,000 square metres, including five retail levels and three basement parking levels with 4,000 parking bays.
Follow Emirates 24|7 on Google News.