NCMS issues 3-day no-sea advisory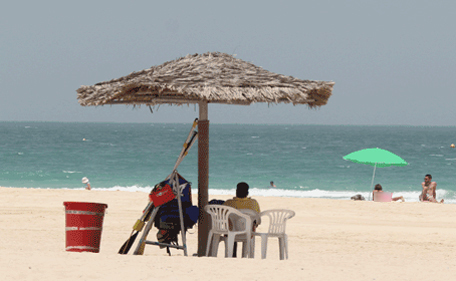 Update: The UAE's weather bureau has warned of foggy conditions over the next two days, with mist reducing visibility to as low as 50 metres on Sunday in Al Hamra, along with parts of Abu Dhabi and Al Ain.

Meanwhile, the temperature is expected to rise, despite the Mercury recording 6.1 degree Celsius over the country today in Hamim at 4:45am.

The next two days will also roll in the clouds and give rise to dust and sand in the west.
The National Center of Meteorology and Seismology (NCMS) has warned seafarers not to surf the sea from today (Sunday) night and for the following three days, due to rough weather.

The national forecasters also urged motorists to be cautious on the roads because of poor horizontal visibility owing to haze and dust and sand being stirred up by fresh southerly winds.

In a statement, NCMS also warned that fog is expected to form over some regions on Sunday morning along with continuous wind activity and rough seas in the Arabian Gulf and Oman Sea.

For Sunday, the centre expects a fair to partly cloudy weather to blow at times over some northern areas. Temperatures tend to rise gradually, while moderate winds in general, becoming fresh southerly by late night and Monday early morning, are expected to blow dust over some western areas lowering horizontal visibility.

NCMS also expects moderate to rough sea on Monday morning in the Arabian Gulf and moderate in Oman Sea.

From Monday to Wednesday, dusty and partly cloudy weather at times is expected over some eastern areas with further rise in temperatures by Monday and Tuesday.

Moderate to fresh winds will cause blowing dust and sand at times by the morning with poor visibility over some areas along with moderate to rough sea in the Arabian Gulf and Oman sea.
Follow Emirates 24|7 on Google News.