New Little Manila opens in Satwa, Abu Dhabi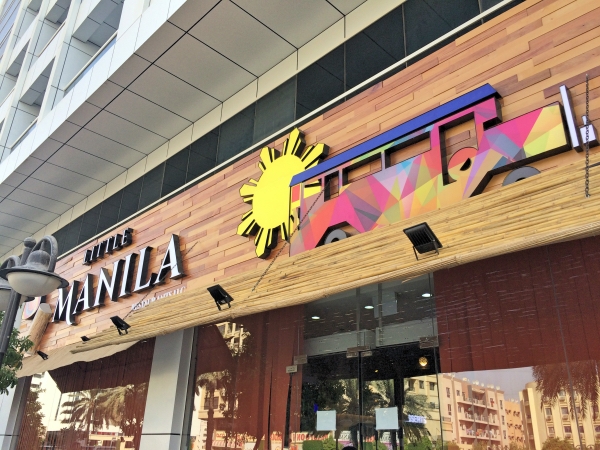 Little Manila, an authentic Filipino-themed restaurant in the region from the Al Ahli Group, is opening new outlets in Satwa and Abu Dhabi. The themed Filipino restaurant, claiming a daily football of 1,000 customers in its maiden outlet is expanding to new areas to provide multiple top Filipino food brands under one roof including Binalot, Jay-J's, Fruitas Group, Mochi Crème, Zagu, Fiftea, along with its in-house brands Kwekie Bites and Breadshop.

Parvez Naqvi, International Business Development Head for Al Ahli Holding Group, said their inaugural branch in Muraqqabat Deira receives 1,000 daily foot traffic with some coming from as far as Abu Dhabi, Sharjah, and other emirates of the UAE.
In line with this upbeat demand, the company is now ramping up Little Manila's expansion. The Satwa branch is set to be completed in the second half of 2016, to be followed by the opening of the Abu Dhabi branch.
Naqvi said: "We are excited for the upcoming new Little Manila branches, which will offer the same flavourful concepts that Filipinos and many other nationalities like. Filipinos are fun- and food-loving people and they do go out with families and friends a lot." "We have about 1,000 customers per day which speaks of the great reception to this unique concept and good quality of food and service," he added.
A themed restaurant, Little Manila pioneered in bringing the iconic Philippine jeepney as a symbol of Filipinos' presence in the UAE.Its walls are also festooned with snapshots of local traditions showcasing the country's rich colourful history and multinational influence that dates back to the colonial Spanish period. Original Pilipino Music (OPM) is constantly played in the background, walking customers through memory lane or simply getting them into the groove.
Little Manila is a themed restaurant that offers an array of food choices from multiple Filipino brands, such as Binalot, Jay-J's, Fruitas Group, Mochi Crème, Zagu, Fiftea along with its in-house brands Kwekie Bites and Breadshop. From appetizers, main course meals, to desserts, beverages and street food, Little Manila gives its customers that distinct Filipino taste and feel at a price they afford any day. From its interiors to the service it provides, the restaurant offers a complete dining experience that ultimately makes the Filipino feel at home. After all, Little Manila is theirs—as the restaurant's mantra goes, "Atin Ito", a Pinoy phrase that means "This is ours".

Filipino patrons and other curious expats who want to sample the rich culinary heritage of the Philippines from Spanish, American, Japanese and Chinese influences continue to fill the restaurant any time of the day Al Ahli Group, the 40-year-old, UAE-based, multi-diversified international conglomerate, which ventured into Little Manila, did a one-of-its-kind survey before the project came into fruition The survey showed that 8 out of 10 Filipinos in the UAE eat out four times a week with 84 per cent of the respondents admitting to being frequent diners. Five per cent eat out twice a month while 11 per cent dine out once.
The survey also pointed out that majority of Filipinos in the UAE are willing to spend up to Dh40 for a meal, with over 40 per cent favouring a concept that involves grilled meat and rice wrapped in banana leaf.
Sheikh Mustafa, Deputy General Manager for Food & Beverage and International Business Development of Al Ahli Group, said: "Little Manila is designed to give Filipinos a place where they can unwind and comfortably feel at home with its authentic Filipino food choices and an atmosphere that will remind them of the Philippines."


Follow Emirates 24|7 on Google News.