New safety regulations for hoverboards, drones and e-transport devices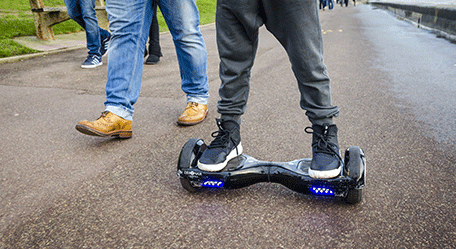 With electric personal transport devices flooding into the Middle East, global safety science firm, UL, has announced new and updated standards, establishing a baseline of expectations for their safe use and shipment.
Hoverboards, drones, electric bikes and other forms of transport devices have become hugely popular across the world in recent years, especially in the Middle East. However, a potential danger is that these devices are powered by lithium batteries, which have been reported as causing many devices to catch fire and these have therefore been banned from hand and checked luggage by many airlines.
With the global market for rechargeable lithium-ion batteries projected to reach $11.9 billion in annual sales by 2020, this technology has evolved over the past 25 years. It now packs in more energy and yields longer life cycles, making it an ideal energy source for transforming the way we learn, work, play and travel.
UL, the not-for-profit organization which has a regional base in Dubai and a new testing laboratory in Abu Dhabi, is keen to see the MENA region continue to embrace this exciting technology, but is urging for diligence and awareness, while also offering new global safety standards to manufacturers that will minimise the risk and keep end users safer.
Hamid Syed, Vice President & GM, UL Middle East, said: "The benefits of new technologies can come with some risks especially if they are not properly mitigated from the get-go. That's why it's critical to acknowledge the safety challenges of an advanced energy system such as lithium-ion batteries.
"We are working with e-mobility and UAV manufacturers, retailers, importers and distributers around the world to evaluate and test the safety of lithium-battery powered devices before they enter the marketplace. We want to work together with industry to help get people and cargo from one place to another in a clean, efficient and safe way.
"Through our various work with government authorities in the region we know their number one priority is the safety of their people. Our new and updated standards establish a baseline of common expectations for the safe use and shipment of these devices and therefore if adopted correctly will reduce the risk to the end user."
The initial version of the UL 2272 safety standard was first published in January 2016 after widespread reports of fires that were traced to lithium-ion batteries used in hoverboards. The danger led to major product recalls and decreased consumer enthusiasm.
The scope of the 2272 standard has now been expanded to cover all types of personal e-mobility devices while the updated requirements of UL 2849 now address the most recent critical safety issues to support safe use of e-bikes and minimize risks from battery fires, explosions and electric shock hazards.
UL 3030 is a new standard for unmanned aerial vehicles (UAVs) such as drones. It addresses requirements for the electrical system of UAVs for commercial applications such as agriculture, video or research and include requirements for UAVs to be operated by trained pilots.
Follow Emirates 24|7 on Google News.