Nile crocodile from Madagascar coming to Dubai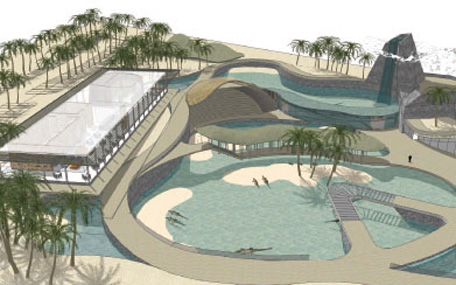 Did you know that a crocodile can jump a distance half its size? That males are only born at 32°C? Or have you ever seen a crocodile make a dive?
Soon all of this will be knowledge available in the Dubai Crocodile Park, which will be completed in two years from now.
On Thursday, Dubai Municipality signed a Dh10 million agreement with the French company White Oryx Investment LLC to set up the first crocodile park in the Middle East.
A total number of 200 crocodiles will house the park in its first stage. They will swim, crawl, and dive in an artificially adjusted habitat, while visitors can watch and learn.
"This ambitious project would be a turning point in the history of Dubai tourism and research projects as the proposed crocodile park would encompass different crocodile species in future stages of the park development enabling the tourists and research students to learn a-z about the crocodile, a gigantic animal existing for last 220 million years," said Hussain Nassir Lootah, Director General of Dubai Municipality on the occasion.
Crocodiles are not endemic to the UAE. The crocodiles of the park will be imported, originally coming from Madagascar. This brings along several challenges.
"The climate would be the biggest challenge," said Reza Khan, Wildlife Specialist for Zoo Management at Dubai Municipality. "At 32°C you will get only males, while at any temperature above or below 32°C you will get only females."
The temperature in the Crocodile Park will be controlled as will be the reproduction, clarified Mohamed Oueslati, General Manager of White Oryx, which does not only sponsor the future crocodile park in Dubai but also co-owns crocodiles parks in France and Belgium.
Amine Mahjoub, Business Development Manager at White Oryx explained that the environment is another challenge. "We want to reproduce as much of the natural environment as we can, because the crocodile needs to swim, crawl, dive and jump. It should be able to retain its daily life behavior."
But with the experience the company has it feels confident that this can be done. "The visitors will enjoy an exciting tour in total immersion into natural sceneries facing hundreds of crocodiles in natural water. The design of the pathway strongly inspired by the natural environment of the animal will enhance the visitors experience,' Oueslati said.
At the same time, safety of the visitor is guaranteed by architectural expertise, added Amine. "We have never had an accident in our crocodile parks before. A safe pass way is designed by our architects, and only experts have access to the crocodiles."
The park will be located in what Dubai Municipality called "a wildlife neighborhood" in the north-east of Dubai, near Mushrif Reserve and close to the anticipated Dubai Safari, which is to replace the old Dubai Zoo by the end of 2014.
"Being a metropolitan city that has been enjoying the total turnover of 10 million tourist per year, Dubai is always keen to put its enduring efforts in the field of sustainable development along with natural and wildlife conservation, creating a number of natural reserves such as Ras Al Khor Wildlife Sanctuary, Mushrif Park and Desert Conservation Reserve in addition to several initiatives to protect animals like turtles, Arabian Oryx, hawks, camels and horses," Lootah said.
According to a municipality official, the next addition to Dubai's wildlife would be an elephant park.
Khalifa Abdullah Hareb, Director of Assets Management Department said the crocodile park would strengthen the role of the UAE in the protection of endangered animal species, working closely with educational institutions and forming an alternative and pedagogical tool that encourages the interest of youth in natural sciences.
Follow Emirates 24|7 on Google News.