No Bitcoin licence issued in Dubai: DED official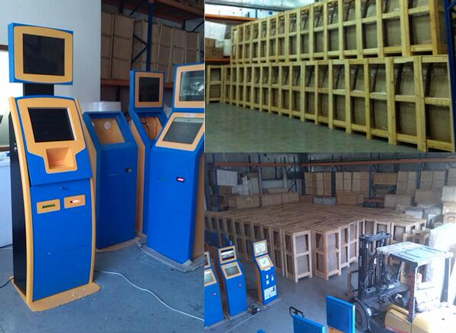 In a statement sent to this website, ManGo Point Services said: "ManGo Kiosks are never been planned to be used for bitcoin and none of the kiosks had this service. We are not Bitcoin ATM and didn't even plan to become one. The company's employee initiated his personal interest and was developing services at his own at free from his duties time."
Earlier story
Dubai has not issued any licence relating to Bitcoins to date, a senior government official told Emirates 24|7.

"DED has not issued any licence relating to Bitcoins so far," Ahmed Ibrahim, Director of Business Registration, Department of Economic Development (DED), said.
Pic 2: These kiosks have been touted as Bitcoin Teller Machines (BTMs). (Twitter @ Sergey Yusupov)

On the social media scene, kiosks (photos 1, 2) have been touted as Bitcoin Teller Machines (BTMs).

"Bitcoin ATM's are about to be rolled out and activated very soon," Twitter user Sergey Yusupov said.

In his tweet, he posted a picture of a warehouse stacked with ATMs, even mentioning the ATM's are one-way, meaning cash goes in, Bitcoin comes out.

Emirates 24|7 can confirm that the kiosks, being marketed as Bitcoin teller machines (BTM) (pictures 1, 2), are of a company that offers convenient solution to pay your bills for both local and international services.
Pic 3: A ManGo Kiosk. (ManGo)

"It only takes a few touches on our interactive screen and your bills will be paid," ManGo Kiosk (Pic 3) says on its website.

"We use the most advanced technology in human-computer interaction to make the interface of the ManGo Kiosk as simple and intuitive as possible," it adds.

In response to our query on twitter on whether BTMs were planned to be installed in the UAE, Bit Access, an Ottawa-based Bitcoin ATM startup, using the Twitter handle @BitAccess, responded, saying, "It will be putting out news soon as details are being finalised."

Currently, there is only one company in the UAE, The Pizza Guys, that accepts Bitcoin.


What is Bitcoin?

Bitcoin is a peer-to-peer payment system and digital currency introduced as open source software in 2009.

It is a cryptocurrency, so-called because it uses cryptography to control the creation and transfer of money.
Pic 4: BTM from Bit Access (Bit Access)

Bitcoins are created by a process called mining, in which computer network participants, i.e. users who provide their computing power, verify and record payments into a public ledger in exchange for transaction fees and newly minted bitcoins.

Users send and receive bitcoins using wallet software on a personal computer, mobile device, or a web application. Bitcoins can be obtained by mining or in exchange for products, services, or other currencies. (Source: Wikipedia)

Follow Emirates 24|7 on Google News.