No-flash cameras catch 3,167 in Abu Dhabi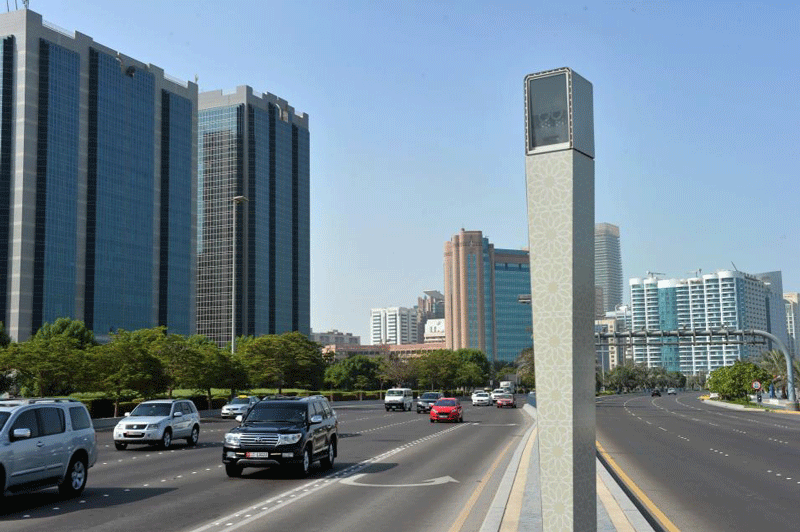 According to statistics issued by the Traffic and Patrols Directorate at Abu Dhabi Police, as many as 3,167 traffic violations were recorded by the cameras installed at Abu Dhabi intersections during January 2014. The violations included jumping red lights and unsafe lane changes.

Colonel Khalifa Mohammed Al Khaili, Director of the Traffic and Road Safety Engineering Department, at the Traffic and Patrols Directorate of Abu Dhabi Police, said: "The traffic violations were recorded by cameras that use infrared technology that capture images without a flash. These traffic cameras, which are installed at different intersections across Abu Dhabi, operate with state-of-the-art technology and high efficiency."

Colonel Al Khaili added: "Our cameras can detect vehicles that run red-lights and fail to abide by the lane rules. They can also record vehicles that stop at pedestrian zones and violate speed limits. Any other violations related to impermissible turns, over-takings and U-turns can also be registered."

"These high-quality infrared cameras monitor five lanes in each direction. They are multifunctional and include infrared licence plate readers. They can also determine the numbers and types of passing vehicles, estimate the average road speed and record the numbers and directions of pedestrians while traffic lights turn green and red," Colonel Al Khaili explained.

These traffic signals cameras are part of an integrated project that aims to improve traffic safety. As part of the project, 150 light-controlled intersections in Abu Dhabi, Al Ain and the Western Region will be fitted with these cameras. It is a modern traffic system, allowing continuous assessment of the intersections' engineering condition, their impact on traffic safety and the occurrence of accidents. Additionally, the system is able to devise necessary solutions by cooperating with the partners. The system is also linked to the directorate's reports system, SMS, and the Portable Variable Message Signs (PVMS).

Al Khaili called upon motorists to follow traffic laws and regulations, abide by the lane rules, reduce vehicle speed at traffic lights and avoid speeding in order to cross a traffic light before it turns red, which can cause serious traffic accidents resulting in deaths and severe injuries.

According to the Federal Traffic Law, jumping a red light carries a fine of Dh800, a penalty of eight black points, and vehicle impoundment for a period of 15 days. Traffic fines can be issued in person and in situations where the person is not present. On the other hand, the failure to abide by the lane rules, regarding trucks, carries a fine of Dh600 and a penalty of six black points, while for light vehicles; it carries a fine of Dh200 and a penalty of two black points.

Follow Emirates 24|7 on Google News.