On track: Metro gets 123 stores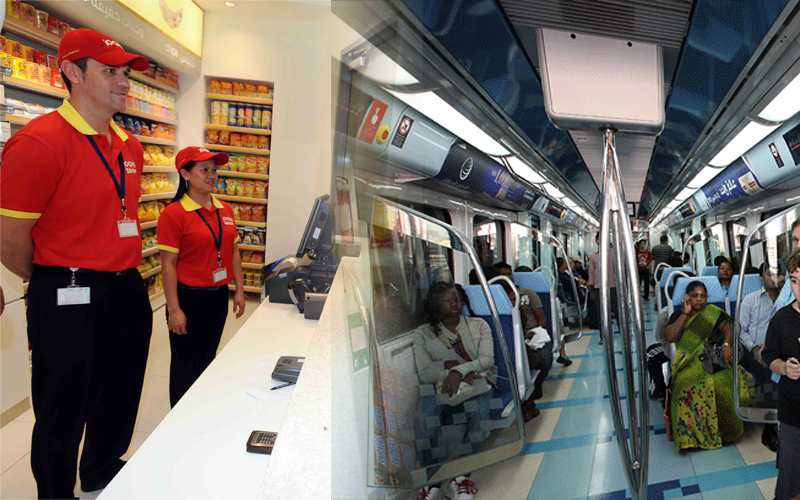 The Rail Agency, Roads & Transport Authority (RTA), has recently announced the renting of 123 retail outlets in the stations of the Red and Green Metro lines to leading businesses in the UAE, representing various trading, economic and services activities, in addition to 179 outlets already up and running in these stations.
"The Metro Retail Outlets is one of the vital & unique projects with an investment profile spanning a diverse cast of trading activities that include general retail stores such as restaurants & cafes, groceries, multi-commodity stores, candy shops, bookstores, in addition to other shops for selling flowers, accessories, electronics, cosmetics, and telecommunication services," said Adnan Al Hammadi, CEO
of RTA Rail Agency.
"The Retail Outlets in the Metro Stations Project is a huge business activity teeming with multitude of services and commodities with store area ranging from 8 to 645 square meters, depending on the nature of the business activity, and the location of the store in the station," he continued.
"These stores are now considered amongst the most attractive business prospects in the retail sector of the Dubai Emirate as they offer items & services to commuters on both the Red and Green lines, particularly as their number is continuously on the rise.
"The layout of these stores has been customised to be in harmony with the unique designs of the Metro stations, and also cater to the needs of investors and business owners. These spaces are expected to attract global brands known in each sector; which will undoubtedly boost the existing partnership between the RTA and the private sector.
"Stores have also been designed to suit the nature of practicing various business activities to serve a wide spectrum of metro riders, be it residents, visitors or tourists.
"The retail stores sector in the Dubai Metro plays an active role in boosting the tourist profile of the Dubai Emirate, besides playing a crucial role in integrating the public transport network, and accordingly rendering mobility on board public transit means the optimal choice of various community segments," elaborated Al Hammadi.
"This project adds a considerable success to the previous successes made or being made by the Emirate of Dubai in a way that boosts the confidence pinned by investors in the economy of the Emirate over and above its investment abilities and potentials.
"The success of this model is linked with the successful drive of the Dubai Metro and emulates the success and excellence of this vital project not only at the national & regional levels, but also across the globe, considering the positive bearing it brings to the daily life of people," said the CEO of Rail Agency in a final note.
Some of these new outlets, which have signed contracts with the RTA for renting stores in the Metro stations, have already started business in these outlets. These include Zoom, UAE Exchange, Sharaf DG, Subway to name a few.
Follow Emirates 24|7 on Google News.