One-year ban still on for violating workers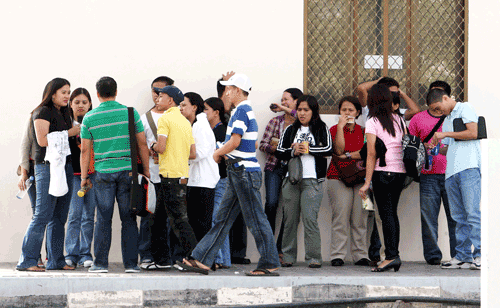 Employees of the country's private sector who violate labour laws still come under the one-year ban during which they cannot apply for new labour permits, the Ministry of Labour has clarified.
The issue came up at a the ministry's Open Day held in Dubai on Thursday when an expatriate worker made a plea to allow him to apply for a new visa although 40 days were left for his one-year ban to end. Ministry officials attending the meeting insisted that he would not qualify for any exemptions since violators of labour laws would still have to serve out the ban period before they can make any job switch.
The official also pointed out that only the six-month ban has been lifted if the worker meets pre-requisites like having completed the two-year labour contract period with his employer without violating any laws. But anyone found violating labour laws would not qualify for any leniency in the matter, Aisha Ba Lharfyah, Director of the Labour Offices said.
The open day saw many workers approaching officials with pleas to reduce fines imposed for violations of various labour laws.
Taking a serious view of employers not sticking to the labour laws, the ministry turned down a request by an applicant who sought to get a waiver on bank guarantee amounts. The ministry insisted that he first file the mandatory papers on 24 of his absconding workers.
He was also asked to pay Dh72,000 as bank guarantee for the absconding workers at the rate of Dh3,000 per head.
The official further clarified that only certain categories like social welfare institutions and cooperative societies came under the ambit of waivers for bank guarantee for their workers.
Follow Emirates 24|7 on Google News.