One-year-old wins diamond at Dubai festival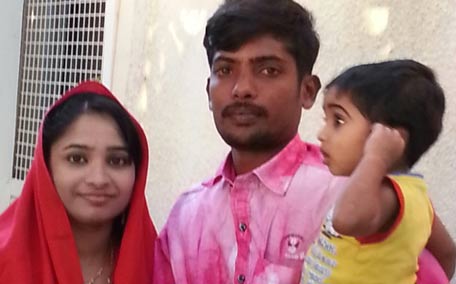 A one-and-a-half-year-old boy proved lucky for his parents as he won them a 1-carat diamond at the Dubai Shopping Festival (DSF) daily draw on January 11.

"We had put the coupon in our baby Nabeel's name, and he proved lucky for us," recalled his delighted father Nihas.

"This is the first time we are winning. So, when I got the call, I thought it was a prank. I had to call back to confirm that it's actually true."
Nihas, who hails from Kerala, has been working in a landscaping company in Ras Al Khaimah for the last eight years.

"I had bought jewellery for my wife and we got nearly 21 coupons," he added.

Akshata Srivasan was the winner for the 1-kilo gold.

"She was shaking with excitement, and was speechless. In fact, she asked me to confirm if it was true and not a prank call," recalled her husband Nagaraj.

"I had to call again and confirm." This is the first time they have ever won a raffle draw, Nagaraj told 'Emirates24|7'.

The couple, who hail from Indian city Mangalore, had purchased a pendant from Kalyan jewellers.

Nagaraj added that it was an impulse buy. "They have a rare collection, and I thought it would be perfect for her."

The couple plan to keep the gold aside, and use it to fund their son's education in future. They have two boys – one in KG1, and the other in Grade 1 at DPS in Sharjah.

Nagaraj has been living in the UAE for 14 years, and works at Galadari brothers group.

This DSF, Dh15 million worth of gold and diamonds are to be given away.

Gold shoppers get a coupon for every purchase of Dh500, which stands them a chance to win a kilo of gold and one carat of diamond during the daily draw, which ends February 1.
There's a weekly draw for five kilos of gold, and the mega draw for one prize of 20 kg of gold, two 10kg gold prizes and one 5-carat diamond.
Follow Emirates 24|7 on Google News.