Only in Dubai: 'White Gold' Merc goes viral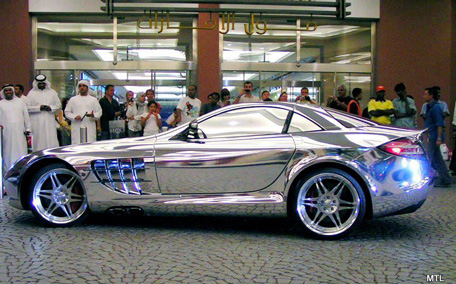 It doesn't get bigger than this, does it? The social media is abuzz with images and video of a car built entirely of 18K 'white gold'.
Okay, not white gold per se, but it looks very, very cool.
The sparkling four-wheeler was pictured parked in front of the Mall of the Emirates earlier this month, according to a Facebook post, although we have since managed to unearth YouTube videos that date back to late last year.
According to the Facebook page of Mount Technologies, the Mercedes Benz SLR McLaren is "owned by an oil billionaire in Abu Dhabi".
Well, an Abu Dhabi number plate gives that away in any case.
It detailed that the "car is made using 18k white gold". It's not gold paint, but the body of the car is made of white gold, reported a website.
For the record, we doubt that 18ct while gold can withstand the unforgiving summer sun of the UAE. If it is indeed made of white gold, get ready to scrape some molten white gold off the Dubai-Abu Dhabi highway in August, when temperatures could peak at close to 50˚C.
"It has stunning features such as the newly developed V10 quad turbo with 1,600 horsepower and 2800 nm of torque 0-100 km/h in less than 2 seconds, 1/4 mile in 6.89 seconds running on bio fuel."
The images and specs of the car have been trending on Twitter.
A spokesperson for Mall of the Emirates said it would be impossible for them to state when the picture of the car was taken at its entryway. "We receive so many cars a day," the spokesperson said.
Follow Emirates 24|7 on Google News.