Pakistan, Afghanistan thank UAE for help against polio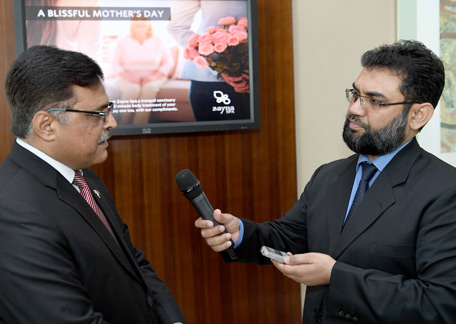 Pakistan and Afghanistan have thanked the UAE for its help in efforts to fight polio in their home countries highlighting the need for joint work to take on the challenges in their border areas.
"Pakistan and Afghanistan are the last two endemic countries in the eastern Mediterranean for polio, where our efforts for polio eradication are still on. So, this interaction between the two countries' programme is a regular event and they are extremely important at this critical point because of the fact that many of the challenges that both programmes face (shared challenges) require joint risk assessment and response approach," said Dr. Rana Muhammad Safdar, Coordinator at the National Emergency Operation Centre, EOC, and Chief of Field of Epidemiology and Disease Surveillance at the Division National Institute of Health, NIH, in Pakistan, in an exclusive interview with the Emirates News Agency, WAM, on the sidelines of the co-ordination meeting on polio eradication in Pakistan and Afghanistan hosted by the UAE in Abu Dhabi.
"We are really thankful to the UAE government for helping us out for hosting this meeting. Here we have teams of experts from the national emergency operation centres from both countries; we have our provincial teams and corresponding regional teams from the Afghanistan programme as well.
"In the last two years, Pakistan has made significant strides and fortunately in 2018 we have not had any polio case reported to date, which is very encouraging, but simultaneously we do have six cases reported from the bordering districts of Afghanistan. The virus is also peering into the environment and sewerage samples of Pakistan in multiple districts so that remains a major worry for us.
"We are working together like one team and through this meeting, we are going to come up with two very concrete plans, which both teams will implement together. One is for the Northern Corridor, which comprises Pakistan's parts of Khyber Pakhtunkhwa province, Federally Administered Tribal Areas, FATA, and then on the other side of the border, we have Nangarhar, Paktika provinces. Similarly, Pishin and Killa Abdullah districts in Balochistan, Pakistan and in Afghanistan Helmand and Kandahar are part of the Southern Corridor. So, it is good that both countries' teams will be there to discuss the practical problems and their practical solutions.
"In Pakistan, we have huge challenges associated with security, which led to inaccessibility of almost six hundred thousand children in 2014. That was the time when we as a nation decided to launch Operation Zarb-e-Azb, aimed at curbing the militancy all together and that has really helped the country in a number of ways. One of the major beneficiaries of this effort is the Pakistan Polio Programme," he informed, adding that since 2015, all the 38 million children under five years were accessible for a nationwide campaign from Karachi to Gilgit-Baltistan.
Dr. Rana further explained that Pakistan and Afghanistan are working like one team. They have dedicated focal persons who are responsible for co-ordination at the national, regional and provincial levels. As a standard operating procedure, they interact with each other telephonically at least once a week. Similarly, provincial teams hold video conferences once a month where experiences and activities are shared and the third level co-ordination is at the national level.
Dr. Maiwand Ahmadzai, Director of the EOC in Afghanistan, who co-chaired the co-ordination meeting on polio eradication told WAM that Afghanistan and Pakistan are the two countries, which reported polio cases last year.
"When we look at the history of the polio cases there has been a particular link between the two countries because of the intense population movements. Due to that, the virus is coming back and forth, which has pushed us to work together to put an end to polio," he said.
The polio eradication programme in Afghanistan is running on a neutral basis, he revealed, adding that it is absolutely away from the politics and there is political support and will and the programme is operated in all areas whether it is government-controlled or anti-government forces.
"Overall, there are no major issues in most areas, but in some areas, the insecurity is at the highest level, as well as we have inaccessibility to these areas. There are some militant groups, which do not allow us for the vaccination. Some are not even allowing health and social services at all; so, these are the major concerns for us and the entire world.
"We have managed to reach most of the children, and as of now the children who have consistently missed for more than six months, their number has reduced to 50,000. But in every round, we are missing around two hundred thousand children and most of them are covered after the campaign is over," Dr. Ahmadzai said.
Follow Emirates 24|7 on Google News.