Pakistan, India teachers shortlisted for Dubai's $1m 'Nobel' for teaching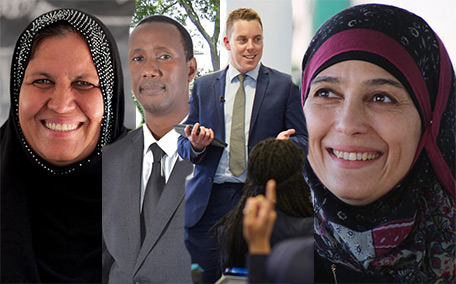 World renowned theoretical physicist, cosmologist and author Stephen Hawking yesterday announced the Top 10 shortlist for the Dubai-based Varkey Foundation Global Teacher Prize 2016.
In its second year, and widely referred to as the Nobel Prize for teaching, the $1 million award is the largest prize of its kind.
Joe Fatheree
Among the finalists are teachers from Afghanistan/Pakistan, Kenya, Palestine and India, some of whom have braved war, displacement and discrimination to continue to impart knowledge to their students in the classroom and outside of it.
The Global Teacher Prize was set up to recognise one exceptional teacher who has made an outstanding contribution to the profession as well as to shine a spotlight on the important role teachers play in society.
Kazuya Takahashi
By unearthing thousands of stories of heroes that have transformed young people's lives, the prize hopes to bring to life the exceptional work of millions of teachers all over the world.
The top ten have been narrowed down from 8,000 nominations and applications from 148 countries from around the world. The winner will be announced at the Global Education and Skills Forum in Dubai on March 13, 2016.
Maarit Rossi
"I want to congratulate all the top ten finalists for being selected from such a huge number of talented and dedicated teachers. I hope their stories will inspire those looking to enter the teaching profession and also shine a powerful spotlight on the incredible work teachers do throughout the world every day," says Sunny Varkey, founder of the Varkey Foundation.
Michael Soskil
"I count my teachers as among the most influential people in my life. Teachers are entrusted with nurturing the potential of the young and helping them blossom as productive and responsible members of society. It is hard to underestimate their value," says Ban Ki-moon, Secretary-General of the United Nations.
Richard Johnson
"We were so excited by the plans to launch the Global Teacher Prize. I also want to recognise the leadership of Sunny Varkey, Founder of Gems Education, who had the idea for this prize and is a great partner for our Foundation," says Bill Gates, Co-Chair of the Bill and Melinda Gates Foundation.
Robin Chaurasiya
"When I was starting out, I was inspired by an older, more experienced actor, who told me that he thought I ought to go into acting professionally. That's the kind of mentoring and personal support that every young person needs to realise their potential," says Academy Award winning actor Kevin Spacey, who sits on the Global Teacher Prize Academy that chooses the final winner.
Here below are the tales and videos of the Top 10 teachers (in alphabetic order) who've made a difference to humanity.
Aqeela Asifi teaches children at the Kot Chandana refugee camp, Punjab, Pakistan
Aqeela trained as a teacher when education in Afghanistan was free to all but was forced to leave her country when the Taliban took over in 1992.
She arrived as a refugee at a camp in Pakistan and successfully fought conservative attitudes of families in the camp and outside it, as well as abject lack of resources, to provide education for girls in the area.
Today, there are nine schools in the camp with many female teachers and over 1,500 students including 900 girls.
Aqeela's school has produced over 1,000 graduates (mainly Afghan refugee girls, but also local Pakistani children). Some have become doctors, engineers, government officials and teachers in Afghanistan.
Ayub Mohamud, a business studies teacher at Eastleigh High School in Nairobi, Kenya
Ayub teaches business studies in Nairobi. An idea developed by his students – the production of roofing tiles from solid waste – has the potential to change the lives of millions of slum dwellers in areas affected by poverty, cholera, malaria and disruption during Kenya's rainy season.
A speaker at the Global Counter Terrorism Forum in Abu Dhabi, he helped Hedayah design strategies to counter violent extremism.
Colin Hegarty, from Preston Manor School, a comprehensive in Wembley, North West London, UK
Colin grew up in a one-bedroom London council flat. His Irish immigrant parents, a builder and a cleaner, emphasised the importance of education. He went on to became the first person from his family to attend university.
He uses a flipped classroom approach to teach mathematics to London students aged 11-18. Since setting up a series of online teaching aids to help a student who was forced to move abroad to care for his father, Colin has created 1,500 online videos which have been viewed almost 5 million times.
Hanan Al Hroub, from Samiha Khalil High School, Al-Bireh, Palestine
Hanan grew up in the Palestinian refugee camp, Bethlehem, where she was regularly exposed to acts of violence. She went into primary education after her children were left deeply traumatised by a shooting incident they witnessed on their way home from school.
Hanan embraces the slogan 'No to Violence' and uses a specialist approach she developed herself, detailed in her book, 'We Play and Learn'. She hopes that, with education, her people can reclaim their homeland.
Joe Fatheree from Effingham High School, Effingham, Illinois, USA
When Joe began teaching, over 25 years ago, he soon discovered his students did not respond to the methods he had learned while training. He now uses innovative and original learning techniques like hip hop music to explore literature.
Joe's students now produce music, books and short films to industry standards covering diverse topics such as poverty, bullying and homelessness. Joe, who teaches media production and innovation, combines project-based learning with opportunities to work with industry leaders and local businesses.
His students use 3D printing and drone technology, and build educational games using Minecraft.
Kazuya Takahashi, a teacher at the Kogakuin University Junior and Senior High School, Tokyo, Japan
Kazuya Uses Lego-based instruction to harness students' creativity. With help from the Japan Space Elevator Association and Jaxa, he organised the first space elevator competition for high school students.
Kazuya encourages responsible learning and global citizenship. He organises opportunities for his students to volunteer abroad.
Maarit Rossi, a maths teacher at Kartanonranta School, Finland
Maarit, a mathematics teacher from Finland, experienced an epiphany following a constructive learning seminar at Leeds University she attended with a group of compatriots.
Aware that students found conventional maths teaching uninspiring, she developed a fresh approach. Her students often learn outside the classroom by taking unconventional approaches to real-life problems (measuring a large circle with shoes to demonstrate the effectiveness of pi, for example).
Michael Soskil from Wallenpaupack South Elementary School, Newfoundland, Pennsylvania, USA
Michael believes students need meaningful emotional connections to learn. He helps students learn through meaningful connections created using multimedia technology; his students connected with over 70 countries (plus the International Space Station) in one year.
In one project, children from the US and Greece connected with children in Nairobi's Kibera slum and partnered with Vestergaard to raise over $12,000 for water filters to protect 2 schools and 3,000 slum residents against disease. Despite being in an underprivileged area, his school exceeds state averages in tests every year.
Richard Johnson, a science teacher at Rostrata Primary School, Perth, Western Australia
Richard launched Australia's first school science laboratory for young children. His students learn using robotics, 3D printing and augmented reality. He works closely with the local science museum and university and discusses his methodology widely at conferences and online.
In 2015, he won the runner-up prize in the DiscoverE.org Educator Awards for a harmonograph designed by his students and manufactured on a 3D printer.
Robin Chaurasiya, from Kranti School, Mumbai, India
Robin began teaching after being forced to leave the US Air Force because of her sexuality. She founded and teaches at Kranti ('Revolution' in Hindi), an NGO that empowers marginalised girls from Mumbai's red-light area to become agents of social change. Her students are aged 12-20 and include victims of trafficking and daughters of sex workers.
The curriculum includes creative thinking, yoga, meditation, writing, geography and music and is supplemented by evening classes in English, ICT, theatre and health education. At weekends, the girls watch films, visit exhibitions and complete mandatory voluntary work for an NGO of their choice. Kranti students have led workshops for more than 100,000 participants and delivered 11 TEDx talks around the world. They toured a play they wrote about their experiences across the US, performing at the headquarters of Facebook and Google.
Tags: #TeachersMatter #Dubai #UAE #VarkeyFoundation
Follow Emirates 24|7 on Google News.