Pakistani factory worker wins Dh100,000 Infinite Mega raffle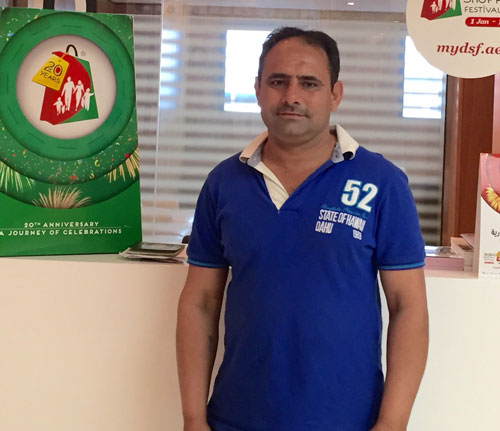 The win couldn't come at a better time. Pakistani Shabbir Hussain, who works in a marble factory in Sharjah, has been struggling to make money towards his son's medical treatment.
His coupon was picked during the weekly Infinite Mega raffle, winning him Dh100,000 in cash.
Fifty-one-year-old Shabbir has been working in the UAE for two years ago for a monthly salary of Dh1,000.
"I bought the Infiniti mega raffle coupon in Baniyas using the overtime money I saved over the last few months and I asked the saleswoman to write my name on it," he said.
"While spending Dh200 for the ticket was a big expense for me, I had a positive feeling about it."
Shabbir also considers Friday to be a lucky day for him for that's the day he received the call informing him about the win.
"I had just finished my daily prayers and I was heading to my camp and as soon as I entered my room, I received a phone call. I answered it on the fourth ring and since the number was unknown to me, I got a strong gut feeling about winning the raffle."
"I am very grateful to the organisers of Dubai Shopping Festival (DSF) for offering people like me the opportunity to win. I can now provide proper treatment for my son and also fulfill other family responsibilities.
"I am also very happy that my aged mom is able to see me win this prize – she is excited beyond words and it makes me even happier to see her so happy."
The Infiniti mega raffle has been offering one lucky DSF shopper the opportunity to take home a whopping prize worth Dh500,000 each day of the festival. The daily prize consists of two luxurious Infiniti models, QX60 and Q50, plus Dh100,000 in cash.
Two draws will be held till today. And, the Infiniti mega raffle will offer more surprises for DSF shoppers with a total of five raffle draws on a single day on February 2.
Follow Emirates 24|7 on Google News.