Palm 360 on parade as Nakheel puts $1.6bn of real estate on show in Shanghai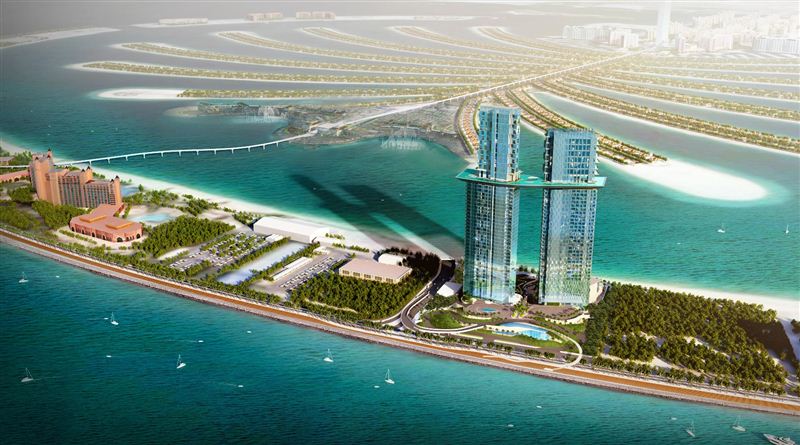 Master developer Nakheel is heading to China to showcase real estate investment opportunities worth more than USD1.6 billion (CNY11 billion) at the Dubai Property Show in Shanghai this weekend.
Nakheel is exhibiting a diverse range of properties – from luxury penthouses on the world-famous Palm Jumeirah to family homes at Dubai's biggest Chinese community – with annual rental yields of up to nine per cent. The developer is looking to expand its Far East / South-east Asia investor portfolio, which already boasts over 600 customers who have bought nearly 1,000 Nakheel properties collectively worth USD270 million (CNY1.8 billion).
Taking center stage in Shanghai is PALM 360, Nakheel's latest, iconic addition to Palm Jumeirah, featuring 12,000 sq ft penthouses towering 220 meters above the island, an infinity sky pool that is longer than a football pitch and, as the name suggests, 360 degree views of Dubai.
Also on show is Warsan Village, Nakheel's new gated community close to International City and the award-winning Dragon Mart, where more than 50,000 Chinese people live or work. The Nakheel stand will also feature a range of studios, apartments, townhouses, villas and land plots at various other areas of Dubai.
Aqil Kazim, Chief Commercial Officer at Nakheel, said: "Dubai is currently home to 200,000 Chinese people, who make up 10 per cent of the city's population. Around 50,000 of them live at Warsan Village/International City – the biggest Chinese community in Dubai.
"We are delighted to bring our projects to Shanghai, where we will highlight the unrivalled investment opportunities Dubai offers to Chinese people. Investors from this part of the world have already bought nearly 1,000 units, collectively worth almost worth USD270 million (CNY1.8 billion), with Chinese investors accounting for 90 per cent of them.
"Thousands more Chinese people have invested in Dragon City, our sprawling, ever- expanding mixed-use complex in Dubai and home to Dragon Mart, the world's biggest Chinese trading hub outside China, which welcomes 40 million visitors a year.
"The Dubai Property Show is the perfect platform from which to tell our story, and to encourage more international investors to be part of Dubai's exciting future."
Nakheel properties on show in Shanghai, from USD463,000 (CNY3.1 million):
- Palm Tower: luxury high-rise apartments in Nakheel's 52-storey landmark on Palm Jumeirah, with a 289 St Regis hotel, rooftop infinity pool, and a range of dining and wellbeing facilities. Studios, one, two and three bedroom units from USD463,000 (CNY3.1 million)
- Warsan Village: townhouses at Nakheel's new, gated mixed-use community with 934 homes, a souk with 1,170 shops and onsite sports and recreation facilities. Quality three bedroom homes covering 2,000 sq ft, from USD480,000 (CNY3.3 million)
- Azure Residences: beachfront apartments – ready for handover – on Palm Jumeirah. Nine onsite restaurants, infinity edge seafront pool and rooftop gym. One and two bedroom homes from USD694,000 (CNY4.7 million)
- Al Furjan villas and townhouses at the 599 hectare Al Furjan master community. Three bedroom townhouses covering 3,242 sq ft and four bedroom villas covering 4,900 sq ft and 5,500 sq ft. Prices from USD816,000 (CNY5.6 million)
- Jumeirah Islands: Townhouses – ready for handover – forming part of a new waterfront mixed-use project at the high-end, fully-established Jumeirah Islands community. Onsite communal pool, gardens and retail and leisure facilities. Four bedroom homes covering 3,630 sq ft from USD1.13 million (CNY (7.7 million)
Selected lands plots are also available at various locations across Dubai.
Follow Emirates 24|7 on Google News.