Parent-school contract for 34 Dubai schools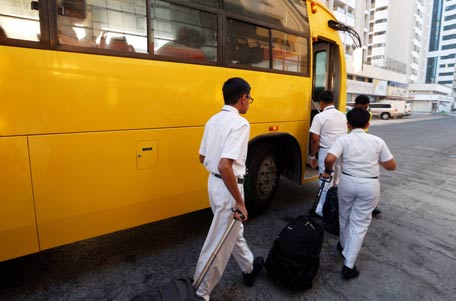 The parent-school contract will be made mandatory in 34 Indian and Pakistani schools in Dubai from April 2015, the Knowledge and Human Development Authority (KHDA) announced on Sunday.
"During student registration, all parents must sign it," the KHDA statement read.
This will impact over 80,000 students, which is approximately 33 per cent of the entire student population in Dubai private schools.
Aninda Chatterji, principal of Gems New Millennium- Al Khail, welcomed the news, explaining that it will help build a strong foundation. "This will elevate the educational experience to a greater level.
"At Gems, we already have a similar system in place, but this is going to be far more impactful as it's legal."
He added that when they had introduced their system, parents were not fully aware of their responsibilities and rights, but faced with a legal contract, that will definitely change. "This way, everything is clear. Everyone is on the same page."
Although Chatterji has not been faced with big conflicts, he is confident the contract could help solve potential differences amicably.
Richard Alan Monterio, Bilva Indian School, added that the contract would help safeguard the schools and parents.
"Since the KHDA format can be altered to each school, it will help tremendously."
He explained that the KHDA had kept the welfare of the parents and the schools in mind, and didn't favour one over the other.
"Such contracts are crucial to build 'good' and 'outstanding' schools."
Since its introduction in 2013, a total of 24 private schools have adopted the legal contract, and it has so far impacted 38,624 students.
Designed to promote positive relationships and outline the rights and responsibilities of both schools and families, the parent-school contract includes refund and admission policies, school fees, attendance and punctuality, as well as health and safety provision and transportation.
It addresses parental responsibilities such as providing schools with accurate medical, psychological and educational assessment records, to ensure students' safety at school.
Under the curriculum section, the school outlines what it will offer in terms of mandatory subjects, options for students, and streaming and assessment processes. Due to the popularity of social media and forums, online bullying, as well as other forms of bullying, is also covered by the contract.
To encourage positive communication, and to strengthen relations between home and schools, KHDA encourages both parties to resolve disputes internally.
Although only schools and parents will actually sign the contracts, students over the age of 15 will be required to read, understand, and acknowledge the contract to show they've understood the key clauses.
"A constructive relationship between the school and families is key to ensuring that the rights of both are protected," said Amal Bel Hasa, Chief of Compliance and Resolution Commission.
To date the contract has proved successful in other schools, with positive feedback from both principals and parents. Following the completion of the first phase, KHDA witnessed a 20 per cent drop in complaints, suggesting schools and parents are finding it easier to resolve their disputes internally.

Follow Emirates 24|7 on Google News.