Parent-school link crucial to school's growth: KHDA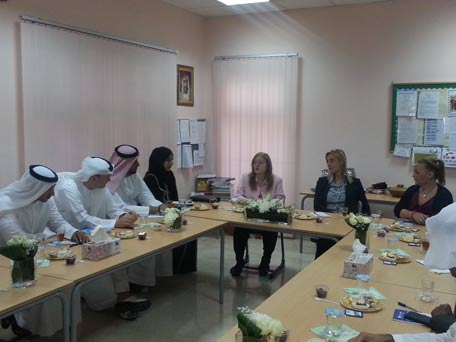 Extending the dialogue beyond school inspections was the team from the Knowledge and Human Development Authority (KHDA), who met staff of Star International school in Al Twar on Sunday.
The weekly school visits are carried out to highlight their strengths and weaknesses, to help identify areas for improvement, and share ideas.
Headed by Dr. Abdulla Al Karam, Chairman of the Board of Directors and Director-General of Knowledge and Human Development Authority (KHDA), the team spent two hours with the staff and members of the school's parent committee.
The KHDA commended the school for showing substantial growth in a short span of time.
"We have been conducting these weekly school visits every Monday for the last three years," he said, adding, "It's an opportunity to get to know our schools and get an understanding of the issues they are facing."
The school selection isn't based on grading by Dubai School Inspection Bureau (DSIB), and every school whether 'outstanding', 'good', 'satisfactory' or 'unsatisfactory' gets a chance to participate in this dialogue.
"These conversations become crucial when we try to identify what we can do to improve the education system," he added.
Dolly A Goriawala, head of Start International school Al Twar, expressed gratitude for being honoured, and happiness at hosting KHDA team. "It is great to connect with the KHDA beyond the school inspections, and to get a clearer understanding on how to go about creating positive change."
During the meet, school staff, members of KHDA and DSIB, and parent committee detected key areas that needed improvement, and exchanged their ideas on making adequate changes.
Arabic language and Islamic studies topped the list, with the teaching staff sharing their challenges with the board member. "It's a challenge, we know, but we encourage schools to think out of the box and customize their teaching methods based on each child's skill sets," said a member of DSIB.
The KHDA gives schools the freedom to improvise and innovate. "We are more interested in the bigger picture, and encourage schools to come out with their own unique methods to bring about change," Dr Karam added.
Involving parents in the teaching process will go a long way in helping students grasp Arabic better, he observed. "We have seen it work in many schools. Brining Arabic out of the classrooms into the homes leaves a big impact.
Connecting private and public schools would also help identify good teaching methods for Arabic, highlighted Fatma Al Marri, CEO - Dubai School Agency.
With the school grading a crucial point in the academic calendar, Dr Karam tipped on what makes schools 'outstanding'.
"We have found that the key to turning a school from 'good' to 'outstanding' is the exceptional parent-school relationship."
Follow Emirates 24|7 on Google News.