Parents warned against leaving kids unstrapped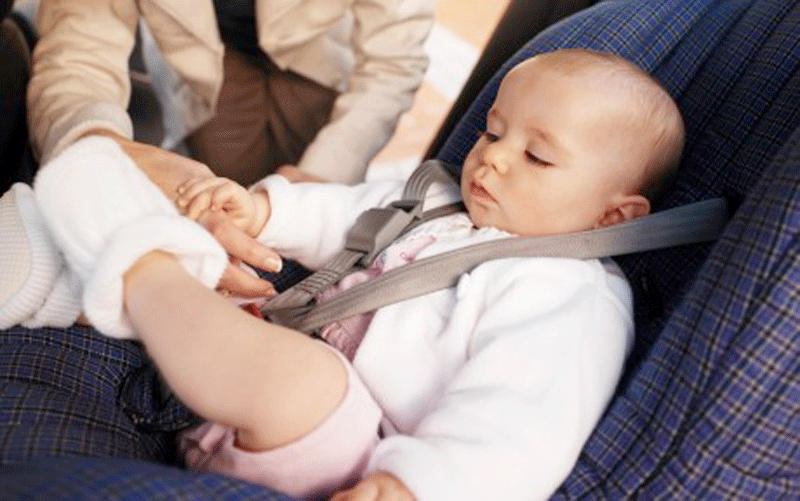 Dubai's Roads and Transport Authority (RTA) is drilling home the importance of child safety in cars.
"People thrown from a vehicle (during a crash) are four times more likely to be killed than those who remain inside."
In a flyer issued by the regulatory body, the RTA lists out the safety points that should be ensured while travelling with a child.
"Wearing a properly adjusted lap and shoulder seat belt reduces the risk of serious or fatal injury by 50 per cent in a frontal crash," the flyer highlights.
Titled "4 steps to keep your baby passenger away from road hazards", RTA details how car seats should be age-appropriate.
"(From birth to 15 months) keep infants in the back seat, in rear-facing child safety seats," it reads.
Children aged between 16 months and four years should be seated in a forward-facing seat that is appropriate to their weight.
For older kids aged 5 years up to 8, ensure they are given booster seats. "Make sure to use booster seats in the back seat that suits your child's age and size until the vehicle seat belts fit him/her properly."
Children aged 9 and older can use the adult seat belts in the back, only if it fits them properly.
The RTA flyer stresses that if a child, under 10 years of age, is seated in the front passenger seat, then the driver will be fined "Dh400 and four traffic points".
It also instructs on what to look for while purchasing a child seat. "Look for the official approval mark (usually the United Nations 'E' mark). The current UN standard is Regulation 44.03."
Special attention should also be given to how the seat is fixed in the car. "While installing the child car seat, make sure that the seat cannot be moved."
ALSO READ:
Emirati teen killed in fatal road crash; Family escape car on fire

100 new radars on Dubai roads: RTA
AIDS cure: US baby girl born with HIV cured after very early treatment
Follow Emirates 24|7 on Google News.