Patrol cars will now scan your face​​​​​​​​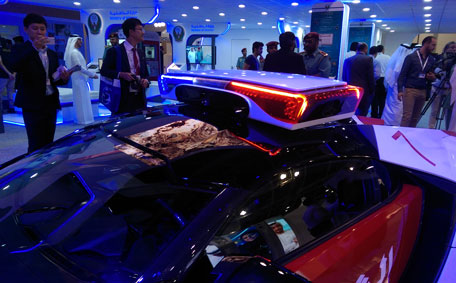 Criminals beware, a new system is being tested in the UAE that will enable a moving patrol car to recognise the presence of a wanted person across the street through face recognition software.

The recently concluded Gitex Technology Week 2015 saw the Ministry of Interior display a new high-resolution camera and scanner that can automatically scan and alert the authorities about the presence of a wanted car or a suspect.

The camera is capable of automatically recognising the number plate of a moving vehicle or the face of a bystander or a pedestrian, and scan through the entire database of those wanted and immediately alert the police officer.


Speaking to Emirates 24|7, Lt. Colonel Faisal Mohammed Al Shimmari, Executive Director of the MoI's Smart Government Programme, said the idea is to make the UAE the safest country in the world. The current technology, he said, is proof of concept and is currently being tested to improve its features.

"We are exhibiting this year futuristic technology that is currently developing as proof of concept. The idea is to ensure the safety of the public. These measures will go a long way to enable us to develop the UAE as the safest country in the world," he said.


The high camera is mounted on a patrol car and will feed into the central command centre.

In fact, facial recognition on a camera mounted on top a patrol car works similar to the license plate readers (LPRs).

In case of the LPRs, a camera constantly monitors license plates within its vicinity and creates an alert if a certain license plate entered into the data as wanted is present.

Similarly, the camera uses facial recognition software which within a fraction of seconds uses facial measurements to scan and identify and flag off a suspect within its domain.

According to experts, the technology is almost as accurate as a fingerprint scanner.

"These futuristic technologies are aimed at enhancing and enabling the law enforcement on the field, to identify any suspect or wanted people to extend the long arm of the law. It is already being tested and could be implemented soon," said Al Shimmari.

The Ministry of Interior is also upgrading the quality of services by streamlining the flow and availability of data on the website, via a revamp in the website's domain hosting, structure, design, accessibility and usability, and multi-language content.
Follow Emirates 24|7 on Google News.