'Pet' lion cub on sale locally for Dh50k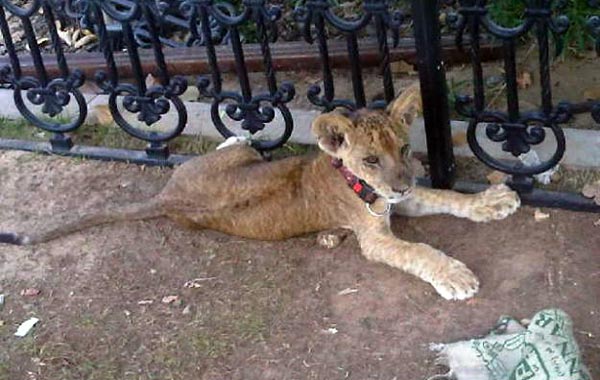 Two weeks after Sharjah residents were shocked to find a female cheetah strolling down a main street, an investigation by Emirates 24|7 reveals that the trade in wild animals – including lions, tigers, and poisonous snakes - continues unabated in the UAE.
Currently, a four-month old lion cub is on sale and this reporter was offered the wild cat (seen in picture) by a dealer for as little Dh 50,000.
The cat was advertised on a website and when the reporter called the dealer, he was informed the animal was currently being kept in a villa near the Emirates Hills area.
According to UAE laws, keeping of animals like lions and tigers, or any other wild animals in a residential area is illegal.
"This is a four-month old lion cub, which is tamed. I am an expert in taming animals and since I started taming it immediately after birth, it is not violent. If you are living in a villa with closed compound walls, the lion can be kept there without any trouble," the dealer, who went by the name of Ali, said.
"I also have a two-month old cheetah for sale at Dh 55,000. I got the animal from Somalia," said another dealer. "I know a cheetah escaped in Sharjah, but this is only two-months old and tame," the man said.
"The photograph of the cub shows it lying in a villa compound. You have to feed the animal with raw meat. As it is tame, it will not harm human beings or cause trouble to the owner," the dealer assured.
The dealer added that the cub was born in an African country and smuggled into the UAE. "Most of the lions and cheetahs come from Somalia, Sudan and Ethiopia," he added.
The online advertisement involving this lion cub is not an isolated incident. Another web ad we came across claimed: "We have hand raised and well-socialised tiger and lion cubs for sale. They come with all health certificates from date of birth to present date. They have all their delivery documents and home licenses. They are well tamed and can live with children as any other domestic animal."
Follow Emirates 24|7 on Google News.