Post your artwork on Instagram... and win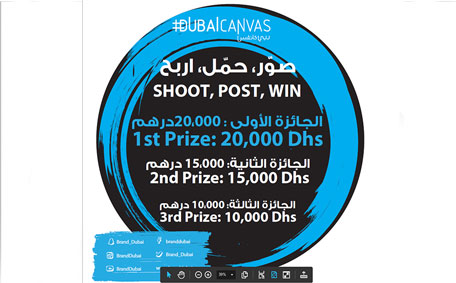 Public visiting Dubai Canvas Festival have an opportunity to take part in an Instagram photography competition by posting their pictures of artworks exhibited at the event on social networking platform.
Individuals can enter the competition by posting their photos on Instagram using the hashtag #DubaiCanvas. The competition, with theme 'Shoot – Post – Win', aims to harness the power of social media to build engagement between the public and the artworks.
Public are invited to post pictures that creatively bring artworks to life. In order to allow the public to post photographs of artworks created on the last day of the Festival, the organisers have extended deadline for the competition until after the event. All photos must be taken with a mobile phone and cannot be enhanced or edited in any way.
A dedicated jury will evaluate the entries and choose three winners based on quality, creativity and 3D representation. The winner will receive Dh20,000; first runner-up Dh15,000 and the second runner-up Dh10,000.
Organised by Brand Dubai, the creative arm of the Government of Dubai Media Office (GDMO), in partnership with Jumeirah Beach Residence (JBR), the Dubai Canvas Festival will feature over 60 works of 30 well-known international, regional and local artists.
Participating artists include inventor of 3D street art Kurt Wenner; New York-based artist and cyborg activist Neil Harbisson; Dutch pop-surrealist artist Leon Keer; Portuguese street artist Sergio Odeith; London-based graffiti artist Fanakapan; Chinese street artist Qi Xinghua; and Brazilian street artist Eduardo Kobra.
The Festival runs until March 14, 2016. Attendance is free. Timings: 4pm to 10pm on weekdays and from 10am to 11pm on weekend.
Follow Emirates 24|7 on Google News.