Qatari businessman wins a $1m raffle at Dubai Duty Free draw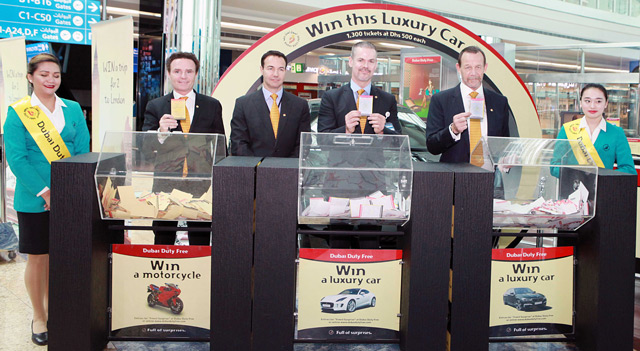 Dubai Duty Free has drawn the winner of its latest dollar millionaire draw promotion with Qatari national, Abdu Hamid Zainel claiming the coveted cash prize.
The draw was conducted at Dubai International Airport's Terminal 3.
Mr. Zainel, a 56 year-old based in Doha bought the winning ticket in March before boarding his flight to Doha.
Commenting on his win Mr Zainel said: "Buying a ticket to win $1 million has become a habit for me whenever I visit Dubai on business every two months. Nonetheless, I was a little unsure when I received a phone call from Dubai Duty Free telling me the news. It was not until my details were read over the phone that I realized that I have really become a millionaire!"
Dubai Duty Free also presented a $1 million cheque to Venugopal Passam, an Indian national based in Sharjah, whose ticket was drawn few weeks earlier.
Mr. Passam was delighted to visit Dubai Duty Free and commented: "I'm so excited about my win and would like to extend a big thank you to Dubai Duty Free for such a wonderful promotion and a memorable day!"
Following the Millennium Millionaire draw, three more winners were announced in Dubai Duty Free's Finest Surprise Promotion, with two winning a luxury car and one motorbike.
Manuchandran Gopalakrishna Pillai, a 54 year-old Indian national living in Sharjah won a BMW 750Li xDrive M Sport. Pillai couldn't believe his luck that his third ticket purchases for the Dubai Duty Free Finest Surprise promotion resulted in him winning a great car, and he is looking forward to driving it on the roads of Sharjah.
Fahad Ali Saeed Alamoudi, a 35 year-old Yemeni national living in Jeddah, Saudi Arabia won a Jaguar F Type 'R' Coupe.
It was Alamoudi's first ever ticket to the Finest Surprise promotion and he thanked Dubai Duty Free for his wonderful surprise.
While a sporty Ducati Hypermotard SP motorbike was won by Erwin Speiser, an Austrian national. Speiser is not available for immediate comment but will no doubt be surprised when he learns of his win.
The winning ticket numbers were drawn by Dubai Duty Free senior officials including Nic Bruwer, Executive Vice President – Commercial, Sinead El Sibai, Senior Vice President – Marketing, Bernard Creed, Senior Vice President – Finance, Sean Staunton, Senior Vice President – Retail Sales and Michael Schmidt, Senior Vice President – Retail Support.
Follow Emirates 24|7 on Google News.