Quintuplets born at Abu Dhabi desert resort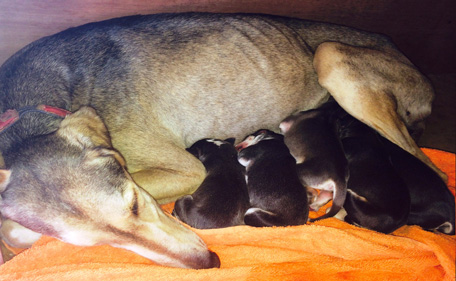 'Reesha' the star of the new Falcon and Saluki Show at the award-winning Qasr Al Sarab Desert Resort by Anantara has delivered a litter of five gorgeous Saluki puppies, comprising four males and one female.

Reesha, which means feather, and her offspring are doing well and she is taking a well-earned rest from the daily Falcon and Saluki show which continues with her partner Raddad, which means 'Defender,' in a single starring role.

The show normally features both Reesha and Raddad demonstrating their ability to 'catch' prey at speed and racing against each other with Reesha usually taking the 'prize.'

"The female of the Saluki species is the faster but in Reesha's absence, Raddad is holding the fort with an impressive solo display," said Amer Braik, Area Director of Environment and Cultural Activities, Anantara Hotels, Resorts & Spas Abu Dhabi.
The oldest breed of dog, Salukis historically travelled throughout the Middle East and Silk Route with caravans and nomadic tribes.

Known for their hunting prowess and being able to achieve speeds of up to 75km per hour, Salukis were integral to the survival of the local Bedouin.

"Anantara is known for offering guests local experiences where they can attain insights into cultures.

"Our Falcon and Saluki Show is a form of edutainment about traditional desert hunting.

"Reesha is the star of the show and we are delighted that she has delivered five potential stars of the future." added Amer Braik.
The Falcon and Saluki show is Dh320 per person providing guests with a touch of Emirati history while admiring the beauty and skills of the falcons and salukis at Qasr Al Sarab Desert Resort by Anantara.
Born from a vision of the UAE's late leader, Qasr Al Sarab is situated in the Empty Quarter, a destination rich in history with settlements dating back 7,000 years.

The resort is regarded as an Abu Dhabi landmark where Emirati tradition, heritage, origins, hospitality and luxury smoothly blend into its pristine desert surroundings.

The resort has a wide range of excursions that reflect the region's ancient cultural traditions.
Sitting atop a crescent-shaped dune in one of the most astonishing landscapes of the Liwa Desert, Qasr Al Sarab offers 154 rooms, 42 villas and 10 royal pavilion villas.

Follow Emirates 24|7 on Google News.