Rain, clouds, fog forecast across country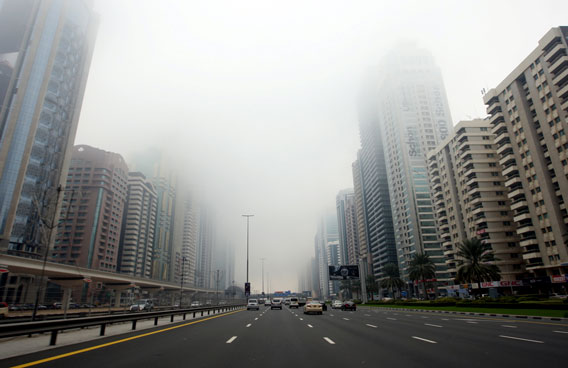 Temperatures across the UAE are expected to drop further during the next 48 hours although it would be less foggy on Tuesday morning.
According to the National Centre of Meteorology and Seismology (NCMS), it may rain in some parts of the UAE this afternoon. The forecast said, Emirates will remain partly cloudy with rain and thunder in some areas coupled with a gradual fall of temperature, especially in the western region.
"Moderate to fresh winds, causing blowing dust and sand over openlads, may reduce horizontal visibility at times. The winds are expected to be strong over the sea," the forecast added.
Though fog will ease a bit, the visibility will continue to be poor. "There will be moderate to fresh winds in general. The sea will be rough to very rough," NCMS spokesman said.
Flights affected
Meanwhile, heavy fog disrupted Etihad flights from Abu Dhabi International Airport on Sunday. The airlines delayed 48 scheduled trips and diverted two to Al Ain airport, the semi official daily 'Al ittihad' reported on Monday.
It quoted airport sources as saying 42 outbound flights were delayed for at least one hour, while six incoming flights arrived behind schedule.
"The company's flight schedule was largely affected by fog, which reduced visibility to less than 100 metres in the early hours of Monday morning," a source told 'Emirates 24|7'.
Residents in Dubai also woke up to a foggy morning on Monday. A thick layer of fog blanketed the emirate, reducing visibility significantly.
Motorists said visibility was reduced to less than 50 metres in some areas. Traffic Police urged people to drive slow. Poor visibility coupled with reckless driving have already led to several accidents in the past couple of days across the UAE.
Accidents
Two people lost their lives and 15 were hurt in six separate incidents in Abu Dhabi due to bad weather conditions, reported 'Gulf Today'. A major collision involving 18 vehicles on Tariff-Abu Dhabi Road in the area after Hamim Bridge towards Abu Dhabi claimed two lives.
In Dubai one person was killed and three injured in a traffic accident on Dubai Bypass Road behind Global Village area on Saturday, reported 'Gulf News'.
Abu Dhabi Traffic Police have stopped passage of heavy vehicles on the internal and external roads in the emirate as long as foggy conditions prevail. The move aims to avoid major accidents.
Motorists are also warned not to use hazard lights while driving on highways. This could mislead drivers and cause accidents. Police patrols and ambulances are ready to handle any untoward incidents.
Meanwhile, residents in Dubai Marina witnessed fog rolling over on Sunday afternoon.
Fog occurs because the warm, moist winds from the Gulf come inland and remain there because there is no dry breeze from the mountains to push it back out to sea. The moisture sits there in the atmosphere and is turned to fog.
Follow Emirates 24|7 on Google News.