Rain effect: Car flips over on Oud Metha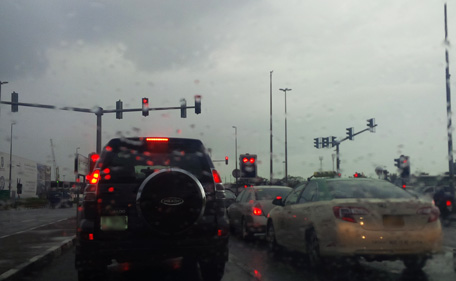 Latest update: Around 10am, it has be reported a car has flipped on Oud Metha Road, heading towards Sheikh Zayed Road. Emergency vehicles are on the scene with reports of traffic backing up.

The earlier accident on Al Ain Road has been cleared.
Wet weather has resulted in traffic jams across the UAE, with snarls reported from most of the major highways as well as the main arteries within the cities.

An accident has also been reported on the Al Ain Road, before the Business Bay exit, involving a white sedan and a black SUV.

According to eye witnesses, ambulances and police vehicles were on the scene around 9am.

The other three trouble spots reported this morning are the Hessa Street exit towards Sheikh Zayed Road, along with the Trade Centre underpass that heads towards Jebel Ali and Bur Dubai's Al Mankhool Road heading towards the same highway.

Slow-moving traffic on Sheikh Zayed Road, Sheikh Mohammed bin Zayed Road and Al Khail have also been reported.

Meanwhile, a torrential downpour in parts of Sharjah has eye witnesses reporting on slow moving traffic near National Paints Junction and Ring Road, heading into Dubai, with commuters reporting 45-minute delays.

Rajesh Asarpota tweeted: "Twenty minutes of drizzle in Dubai and traffic jams going back miles."

Anmol Pinto wrote: "Do not even think about using Sheikh Zayed Road this morning."

Walid Mansab said: "Love the rain; do not love the traffic and the lack of driving skills."

Dubai Police and Roads and Transports Authority have warned drivers to maintain a safe distance between vehicles and proceed with caution as roads could be slippery.

Follow Emirates 24|7 on Google News.