Rain hits Dubai, Abu Dhabi, Sharjah: Traffic snarls; Rough seas warning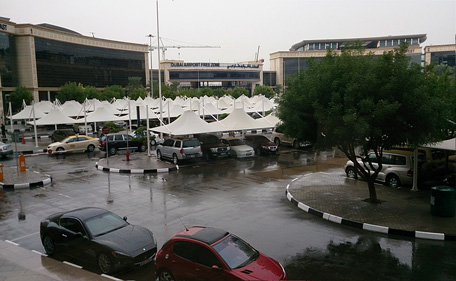 Dubai, Abu Dhabi and Sharjah have experienced rainfall that begun in the early hours on Monday and continues across the UAE, with an unstable weather pattern rolling in.
The country's National Centre for Meteorology and Seismology has stated that Dubai is facing mild to medium rain showers, with visibility reduced to 1,500 metres in Jebel Ali.

Rain in Dubai Airport Free Zone Area (DAFZA). (Pic credit: Irshad Shaikh)
The NCMS has also warned that further visibility could drop in other areas due to the dust raised by the rain.
Meanwhile, Sharjah is also currently experiencing "mild to moderate rain" as per the NCMS, while Abu Dhabi's Ruwais and Dalma Island are also experiencing light showers.


Burj Khalifa today as snapped by Sadiq Al Balooshi on Twitter
The NCMS further stated, when quizzed about today's conditions: "The weather will be partly cloudy and dusty over some areas, the cloud amount will increase especially over the coastal areas, island and the northern areas with a chance of rain that will increase during night.
"People will experience moderate to fresh winds, especially with cloud activity causing blowing dust and sand. The seas will be rough in general."
Wind speeds could reach highs of 65kmph, with the mercury dipping to 5 degree Celisus in the mountains tonight and 8 degrees Celsius in the internal areas of the UAE.
PH tweeted around noon: "Traffic queuing on the slip road to Dubai Marina off Sheikh Zayed Road by Business Central Towers. Looks like overturned car looks like."
Reports of traffic snarls on Hessa Street also reported.
NCMS has warned and advised mariners in the Arabian Gulf and the Sea of Oman in this period, and also requests drivers to take precautions on the roads because of poor visibility due to blowing dust and sand in exposed areas, and encourages extra caution on the roads during rainfall.
The NCMS in its weekly forecast said while overall the weather will be partly cloudy and dusty over some areas, the cloud cover will increase, with a chance of rain increasing during the nights. The sea will also be rough in general.

Today, the cloudy weather in general is set to increase over scatted areas especially over the northern and coastal areas associate with rain, moderate to fresh wind with the cloud activity causing blowing dust and sand, which may reduce horizontal visibility at times, the sea is rough in general.

On Wednesday, the weather will be cloudy to partly cloudy, with a chance of some rain, especially over northern and eastern areas, and cloud amount will start to decrease gradually, especially in the westerly areas, there will be moderate north westerly winds by night with the fall of the daytime temperature. The sea will be rough, becoming moderate gradually by evening and night.
Follow Emirates 24|7 on Google News.