Rain in UAE: Unsung heroes step up to save the day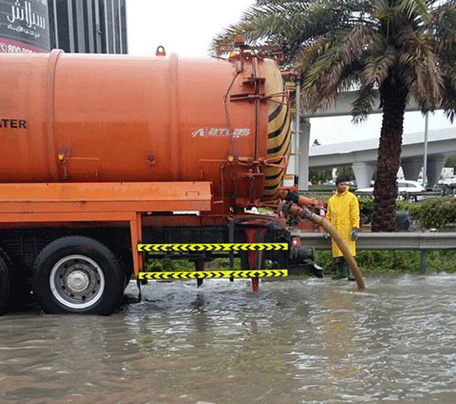 As the UAE steps out to weather the aftermath of the storm that shook up the country and left people with harrowing experiences to narrate, other stories are also emerging, of unsung heroes who braved the winds and the rising water to help others in need.
While government authorities rallied teams to maintain traffic, clear roads from fallen debris and drain rising levels of water from highways and communities, some members of society opened up their doors to stragglers unable to reach home, while others stepped up as Good Samaritans to pull out vehicles trapped in the floods and give others a lift home.
Government teams work round the clock
Dubai Municipality rallied a special 'Ghaith Team' to clear communities and major roads from debris and accumulated water.
The government authority posted on its official Instagram account, stating 1,000 workers across 120 teams were despatched to various areas in Dubai to clean up rain water and drainage holes, working under DM and for other private companies.
Talib Julphar, Director of Drainage and Irrigation at Dubai Municipality, further stated, almost 50 tanks drained accumulated rainwater from public streets and 40 tanks from private sectors. They have asked residents to contact 800 900 if they are facing any issues.
Meanwhile, Dubai Police and the Roads and Transport Authority of Dubai rallied together to maintain traffic and clear waterlogged areas on the main highways.
Similarly, as the capital's Ministry of Interior and Abu Dhabi Municipality despatched teams to clear roads, the latter also housed families of citizens in hotel rooms following homes being damaged by the rains.
Opening homes
While authorities took charge of the public avenues, private residents also rose up to the occasion, opening doors and hearts to welcome those struggling in the floods.
Several residents of Jumeirah Park, one of the communities affected by severe waterlogging, were forced to check into hotels following extensive water damage to their homes.
Other neighbours stepped up to the cause to offer a room, with Lizzy Manja posted on the community's Facebook page stating: "My house is open to anyone in dire need. Guest bedroom ever ready… fridge stocked for little ones and adults."
Another resident Yousef Khalili, also posted: "We have a full spare bedroom with a queen bed ready."
Good Samaritans were not hard to come by even with stranded stragglers and stuck vehicles.
"A guy in Discovery Gardens was stuck with his car mid-water last night; after calling for help he got like four other people to help," said Dubai resident Molara.
Meanwhile, Sanjay Patel was offered a lift home when he was forced to abandon his vehicle in Jebel Ali after the car was caught in the rising water.
Across the highway, Abu Dhabi, which bore the brunt of the storm, had residents taking to streets in traffic conditions to clean up branches and other debris that were strewn on the roads, while others towed uprooted trees that were causing obstruction on the main highways.
"It is always at such trying times that a community shows its teachings. And we have learned the skill of giving and helping others from our great leaders in the UAE," said Salah Abdulla.

Follow Emirates 24|7 on Google News.