Rains across UAE today; high winds forecast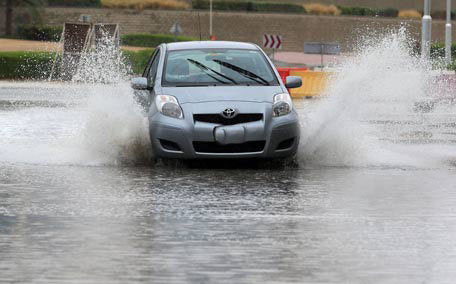 Update: The UAE's weather bureau has confirmed Dubai, Sharjah and parts of the Northern Emirates experienced rainfall in the early hours of Monday.
Eager residents also took to social media to report of light drizzle in parts of Deira, Dubai Marina, Emirates Hills, Jebel Ali and parts of Sharjah, posting pictures of raindrops on their car windshield.
Earlier: It was forecasted the UAE was to receive showers across the country today (Monday), with the country's weather centre also warning of high winds that may reduce horizontal visibility across parts.

The National Centre for Meteorology and Seismology (NCMS) also reiterated its marine warning for the next two days, with rough seas causing waves of 12 feet at times.

"The cloud cover over the previous few days could lead to rainfall across the UAE on Monday morning, especially in the northern part of the country, including Ras Al Khaimah, Fujairah and Sharjah," an NCMS spokesperson told 'Emirates24|7'.

"However, Dubai and Abu Dhabi should also experience sporadic rainfall by midday."

The Mediterranean depression, which is blowing eastwards towards the northern Gulf, will also bring about high winds of 60kmph over the sea, with wind speed dropping by 10kmph over land.

"The northerly winds will blow dust over scattered parts of the country over the next two days, reducing horizontal visibility in parts of the UAE," the spokesperson added. "The winds over the waters of the Arabian Gulf and the Oman Sea will give rise to rough seas and waves reaching 12-feet at times.

"We have issued a marine warning for fishermen and tourist operators to proceed with caution into deeper waters."

The temperatures across the UAE will average between 5-12°Celsius at night, with daytime highs reaching 30°C last weekend.
Follow Emirates 24|7 on Google News.