Ramadan driving alert: RTA gifts drivers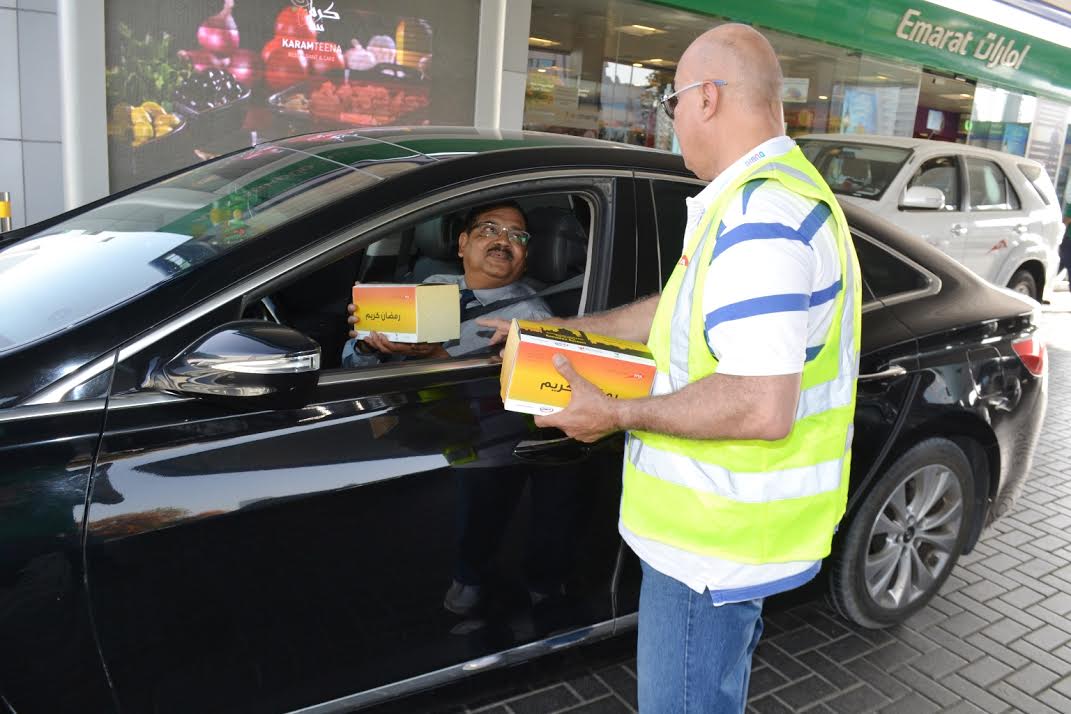 The Roads and Transport Authority (RTA) has renewed its awareness campaign targeting road users in Dubai.
RTA urged motorists not to drive when feeling exhausted or drowsy because these two conditions are among the most common factors leading to traffic accidents, particularly during Ramadan when some drivers find it difficult to concentrate.Maitha bin Adai, CEO, Traffic And Roads Agency, RTA, said, that 'Safe Driving in Ramadan' campaign is part of the traffic awareness plan of the Agency built on RTA's traffic safety strategy.
This Ramadan, campaign will rely on social media channels, apart from awareness leaflets. Ramadan gifts are distributed at petrol stations in collaboration with Emirates Petroleum Company, Al Ahli Driving Institute and Unikai Company, she added.
"The change in sleeping and working times during Ramadan may affect the concentration of some motorists who fast, which calls for extra care and caution while driving. Motorists have to be aware of driving-associated risks when they lack concentration, experience fatigue or exhaustion," she explained.
Most common cause of accidents
"Most traffic accidents that take place during Ramadan are attributed to the lack of safe distance between vehicles. About 182 accidents were recorded during Ramadan last year resulting in 13 fatalities and 98 serious, medium and minor injuries, according to statistics of the Dubai Police. Motorists are, therefore, urged to leave sufficient distance between vehicles and ensure that the A/C is effective as the hot weather is likely to contribute to exhaustion. Moreover, drivers have to keep their back upright with head up while driving," added Maitha.
She called upon drivers of light and heavy vehicles to take sufficient rest before driving, and park when they feel exhausted, drowsy. A short rest would help the driver complete the journey safely, she noted. She also called on motorists to park on the roadside when they hear the call for Maghreb prayer, and take a light breakfast, before resuming their journeys.
Sudden swerving
Bin Adai alerted against the risks of sudden swerving, as it is the prime factor responsible for serious and fatal traffic accidents. Last year sudden swerving had caused 572 accidents in Dubai, constituting 19.5 per cent of the total number of traffic accidents, according to Dubai Police statistics. She stressed the Agency would focus over the next weeks following the month of Ramadan on holding several traffic events in collaboration with strategic partners such as the Dubai Police to alert motorists against the risks of sudden swerving, urge them to focus on the road condition, and make advance plans for their journeys.
"Drivers have to ensure (through the side mirror) that the lane is clear, and mind the blind spot. When a lane change is needed, drivers must use the indicator and maintain the same speed during the process."
Truck ban
"The ban of trucks movement during the month of Ramadan on Al Ittihad Road, Sheikh Zayed Road from the interchange 7 to the link with the Sheikh Rashid Road (from Zabeel Tunnel to Al Garhoud Tunnel) as well as the downtown area (Deira and Bur Dubai), has been changed from 7 am to 11pm instead of the normal time from 6am to 10pm. Trucks movement ban is also modified by one hour during the morning period in the rest of roads in the emirate from 7.30 am and continue to 9.30 am instead of the usual timing of 6am to 8.30 am. The traffic movement is banned throughout the year in Shandagha Tunnel, Al Maktoum Bridge, Floating Bridge, Al Garhoud Bridge, Business Bay Crossing and the Airport Tunnel."
Tips to motorists
• Take sufficient amount of rest before driving. When you feel tired or drowsy, stop driving immediately and never continue driving unless your mind allows you to do so. Driving while feeling exhausted is like driving under the influence of drugs.
• Ensure that the interior of the vehicle is air-conditioned as a hot interior makes you feel tired. Avoid reclining the seat more than needed, and try to keep your back straight and head up while driving.
• When Maghreb prayer time sets in while driving, stop and take a light breakfast, even if it is just water and dates, before resuming your journey.
• Always anticipate a sudden movement from the vehicle in front of you, especially cyclists and motorcyclists.
• Most accidents that take place during Ramadan are attributed to the lack of leaving sufficient distance. Therefore, ensure that a safety distance is maintained between you and the vehicle in front.
Follow Emirates 24|7 on Google News.