Region's first consumer goods lab opens in Dubai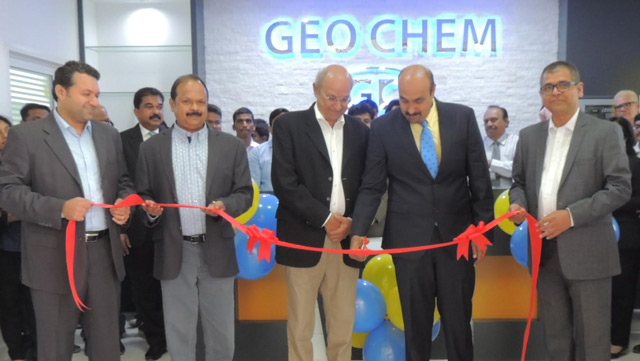 The region's first laboratory to test consumer goods has opened in Dubai.
Geo-Chem Middle East, an independent inspecting and testing company, inaugurated the lab at Dubai Investment Park.
The new facility offers quality testing of textile and leather products, home furnishings, toys and electronic goods, among others, to ensure that every product that reaches the customers meet the highest standards of quality specified by the government authorities.
Inaugurating the facility, Rajiv Bahl, Managing Director of Geo-Chem Middle East, said: "The new laboratory marks our expansion into consumer goods testing services through a dedicated facility that will assure the highest standards of quality for customers.
"Our goal is to provide the comprehensive suite of testing services in Dubai for our customers from across the region."
Pradeep Gopal, Executive Director of Geo-Chem Middle East, said the laboratory brings all consumer goods testing under one roof. "With this lab, we are now offering the entire portfolio of testing services, and establishing ourselves as a one-stop hub for all testing and inspection services in the region."
With the Consumer Product Services Lab, Geo-Chem is supporting the preparations for Expo 2020 Dubai, said Manish Kumar, Global EVP of Geo-Chem CPS Division.
"The lab ensures that only products that meet the quality standards mandated by the authorities reach the customers. Further, with the city emerging as a global fashion hub, a world-class testing facility for textiles, leather, footwear and accessories will help establish clear quality credentials for products made in Dubai and exported from here."
"The facility to test toys is another value-add that our lab provides as it ensures the health and well-being of children. Across the MENA region, governments are focusing on ensuring strict quality standards for customer products. Our state-of-the-art lab is fully equipped to meet these requirements," added Manish Kumar, who has over 25 years of experience in the global supply chain industry.
Among the customised solutions offered by the lab is La Fit by Geo-Chem, which focuses on pre-production activities for the apparel industry covering proto sample inspection, fit sample review, tech pack creation, size-set sample inspection, pattern making and grading, fabric consumption, muslin sample making, and sample inspections, among others.
In the toys sector, the Consumer Goods Lab undertakes product safety testing, evaluation and quality assurance services including Consumer Product Safety Improvement Act (CPSIA) Testing, juvenile products testing, European Union's Toy Directive testing, design and evaluation, mock-up sample study, safety and feasibility testing, endurance testing, risk assessment, and loading supervision, among other services.
The Lab also undertakes testing of home furnishings, imitation jewellery, leather & footwear, and hard-lines covering furniture, household, kitchenware, sporting items, personal protection equipment, electrical goods, safety & fire appliances, among others.
Follow Emirates 24|7 on Google News.