Region's first smart street unveiled in Dubai: Click for where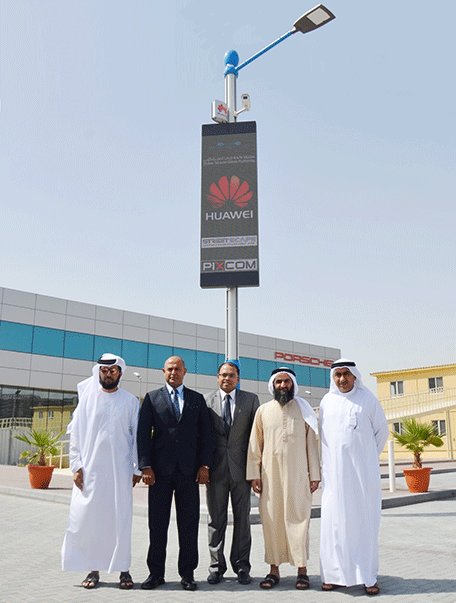 The first Smart Street Solution in the Middle East region has been installed at a high-tech park in Dubai, offering WiFi access and real-time news display besides incorporating sensors monitoring temperature, humidity and air quality
The solution has been installed on a pole in Dubai Silicon Oasis, the free zone technology park, by its regulator Dubai Silicon Oasis Authority in collaboration with ICT solutions provider Huawei.
The street incorporates a number of advanced features geared towards creating a friendly and secure environment for the community, Huawei said in a media statement today.
Digital signage capability allows real-time display of news and information, while the integrated Wi-Fi transmitter offers internet access within a 300-metre radius.
The CCTV solution ensures safety of businesses through intelligent surveillance while environmental sensors monitor outdoor temperature, humidity and air quality.
The integrated nature of the solution means it is 'future ready' – or ready to add additional services and capabilities in a cost effective and timely manner.
In addition, the centrally controlled Smart Street Solution allows greater energy efficiency and management.
"The installation of the first smart street pole in DSO will enable us in collaboration with our strategic partners, to test this new smart solution in order to evaluate its scalability and feasibility for large-scale implementation across our hi-tech park as well as the city of Dubai," said Muammar Al Katheeri, Vice President of Engineering Management at DSOA.
"As part of our commitment to contributing to the vision of transforming Dubai into one of the smartest and happiest cities in the world, we have partnered with Huawei to implement the first Smart Street Solution in the Middle East region," he said.
Follow Emirates 24|7 on Google News.