Rescue teams of juvenile whale shark honoured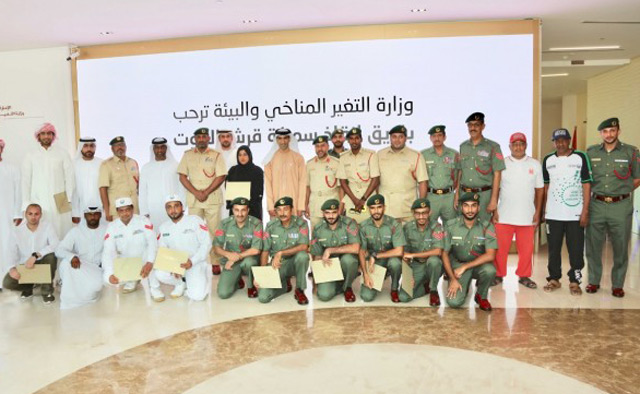 The Ministry of Climate Change and Environment (MOCCAE) has honored the combined teams from the Ministry, Dubai Police and the Marine Environment Protection Association, who collaborated in carrying out a rescue operation to return to the sea a juvenile whale shark that lost its way in Dubai Creek earlier this month.
During the recognition ceremony organised by the Ministry at its headquarters in Dubai, Dr. Thani bin Ahmed Al-Zeyoudi, Minister of Climate Change and Environment, commended the role played by all the teams cooperating to save one of the UAE's most important marine species.
"Sharks are one of the most important and diverse marine creatures in the UAE waters. In line with its strategy and the UAE Vision 2021, MOCCAE strives to maintain marine sustainability and preserve the biodiversity of the local environment. The Ministry also aims to raise awareness on the importance of protecting sharks, in light of the surge in over-fishing, mainly due to the high value of shark fins, shark meat, and shark gill plates, which has adversely affected shark populations and threatened them with extinction, especially in the East Asian countries," said the minister.
The minister pointed out that earlier this year, MOCCAE launched the National Plan of Action (NPOA) for the Conservation and Management of Sharks 2018-2021, which presents concrete steps to conserve and sustain the 72-known species of sharks and mantas that consider the UAE home.
The rescue operation started immediately after receiving a notification about the sighting of the three-meter long shark in Dubai Creek. A team of expert divers and employees from MOCCAE's Biodiversity Department reached the scene. They developed a rescue plan with minimal risks, factoring in the shark's state of fear and anxiety. Divers tasked with the rescue split up into three groups onboard two boats. Five exhausting hours later, they managed to get the juvenile whale shark onto a stretcher that extended below the water between the two boats and extracted it from the Creek, before moving it slowly back into the Arabian Gulf.
Follow Emirates 24|7 on Google News.