Rice bag weighing 2 Royal Bengal Tigers sets Guinness World Record in UAE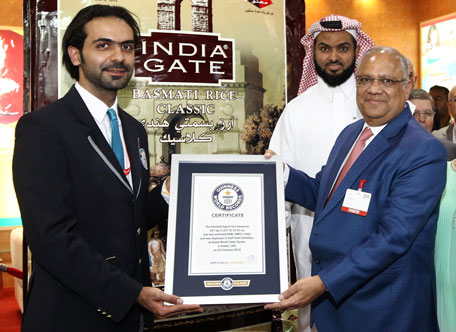 Gulfood, the world's largest annual food and hospitality trade show, has broken a Guinness World Record for the globe's heaviest bag of rice.
KRBL Limited, the world's largest rice millers and Basmati rice exporters, has successfully entered the Guinness Book of World Records with a bag of rice from its acclaimed India Gate Classic Basmati Rice brand weighing 550kg, a combined weight of two adult Royal Bengal Tigers.
The new record was achieved when the bag was filled in a single day by a dedicated team at KRBL DMCC's Al Quoz warehouse before being driven on a truck to Gulfood – which began at Dubai World Trade Centre on February 21 and will run until February 25.
"Guinness Book of World Record assessors were on site to verify the entire process," explained Priyanka Mittal, member of the Board of Directors at KRBL Limited.
Following the feat, Guinness Book of Records accreditors presented the KRBL Limited management with a honourary certificate on the second day of Gulfood.
"After the show, we plan to display the bag for a few days at a major retail store or a shopping mall before distributing it to labourers," added Mittal.
KRBL Limited, which owns the India Gate Basmati rice brand, is also one of the recipients of World's Greatest Brands and Leaders 2015 - Asia & GCC Awards.
The company is participating at Gulfood to connect with its worldwide distributors, forge new alliances and expand its country basket.
The record has been welcomed by DWTC which has signed up more than 5,000 exhibitors from over 120 countries for Gulfood 2016, the largest number in the show's history.
"The new Guinness World Record is a colourful and engaging addition to this year's show. Dubai is well-known for its record-breaking exploits and we're very happy that Gulfood has got in on the act," said Mark Napier, Exhibition Director of Gulfood.
Gulfood 2016 is hosting the show's largest contingent to date of national and industry pavilions, having lined up a total of 117, five more than last year, with first-time group participation from Russia, Costa Rica, Belarus, and Mauritius, and New Zealand returning after a six-year break.
Among the anticipated 90,000 visitors from more than 170 countries expected before the show closes on Thursday evening, Gulfood 2016 will host international heads of state, ministers, government officials and national trade associations from five continents.
Follow Emirates 24|7 on Google News.