Riverland Dubai announces thrilling lineup of signature events for 2017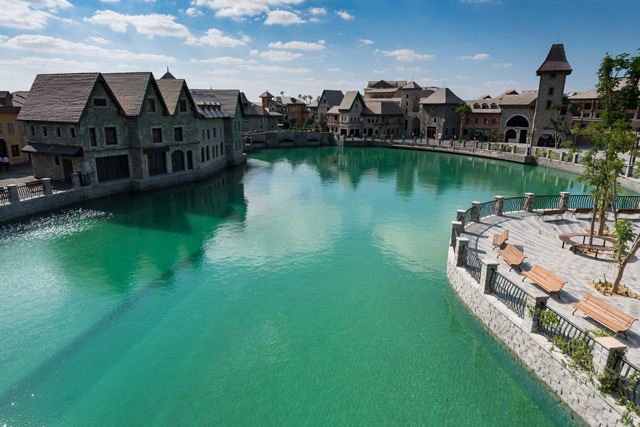 Riverland Dubai, the multi-themed dining and retail destination located at the heart of Dubai Parks and Resorts, the Middle East's largest integrated theme park destination, has announced the full list of annual signature events to take place at the destination throughout 2017.
Riverland Dubai will feature five signature annual events with different themes appealing to guests from all age groups, these events include:

· Xtreme Acts on the River between 9th-11th February 2017: An adrenaline & fun packed festival of extreme sports with a 30-meter ramp on the river, zipline over the river, free drop tower and DJ's performing.
· Fairy Tales on the River between 2nd -4th March 2017: An event allowing visitors to explore the enchanted Riverland™ Dubai where scenes from some of their favourite fairy tales come to life.
· Rhythm on the River between 6th -8th April 2017: A weekend full of movement and sounds! Visitors can swing through the different music styles at Riverland Dubai.
· Circus on the River between 12th -14th October 2017: A Festival that includes circus acts and workshops and a magical circus show at Riviera Plaza.
· Pets on the River between 16th -18th November 2017: is an educational and entertaining festival designed to raise awareness of animal welfare and to educate individuals about pet products, pet food, pet fashion, pet health, pet training and all pet services.

The first of the Riverland Dubai "events on the river" series will be "Xtreme Acts on the River" taking place between the 9th -11th February.
Adrenaline junkies will have the opportunity to enjoy a wide range of extreme sport activities, celebrity DJ sessions, various performances and many daring activations by the river free of charge.

"Xtreme Acts on the River" will welcome visitors from 5pm to 10pm on the 9th of February, and 2pm to 10pm on the 10th and 11th of February, with free parking after 6:30pm.
The adrenaline packed weekend will feature action sports such as Parkour, BMX bikers, fly boarding, X Pogo, Free drop, inline and daring athletes that defy gravity.
Acts by international BMX, Inline, Scooter, X Pogo and Trials riders will sustain the energetic momentum throughout the weekend.
Additionally, guests can participate in a series of thrilling activities such as; the Climbing wall, floating mega ramp, zip line over the river, bungee trampoline, Bagjump free drop tower or enjoy the live breakdance shows.
Moreover, Bagjump extraordinaire Daniel Moesl will be free falling into the Bagjump from above 20m, while parkour professionals twist and spin off the 7meter and 10meter platform into the bag.

Marcel Hendriks General Manager – Riverland Dubai, Dubai Parks and Resorts said: "Xtreme Acts on the River" will be our first event of the year 2017, and we're confident that the list of activities we've planned will appeal to our guests and encourage them to attend this exciting extreme sports spectacular on the river every year.
Whether you're a family or a group of friends, you will definitely find an activity that interests you and even be tempted to take part.
And while enjoying our year round signature events, guests will also be able to experience Riverland Dubai's retail, dining and entertainment offer and discover this new, unique destination

Riverland Dubai is part of Dubai Parks and Resorts, the region's largest integrated theme park destination, which features MOTIONGATE Dubai – a unique theme park showcasing some of Hollywood's most beloved characters from DreamWorks Animation, Columbia Pictures and Lionsgate as well Bollywood Parks Dubai, a first-of-its-kind theme park that will showcase rides and attraction based on some of Bollywood's biggest blockbusters, in addition to the region's first LEGOLAND Park and a LEGOLAND Water Park.
Guests can stay at the Lapita Hotel, a Polynesian themed family hotel part of the Marriott Autograph Collection. Expected to open in late 2019, Six Flags Dubai will be destination's fourth theme park and the region's first Six Flags theme park.
Follow Emirates 24|7 on Google News.