Rotating tower in Dubai: Dh2bn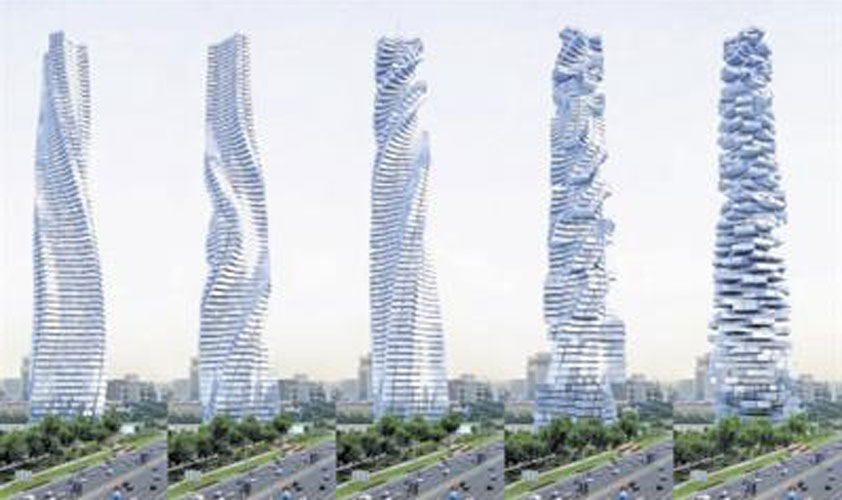 The estimated cost of building the Dynamic Tower in Dubai, where each of 80 floors will rotate independently, has been put at Dh2 billion by its developer.
The tower is expected to cost around Dh2 billion (£355million), Italian architect Dr David Fisher from Florence who owns the Rotating Tower Technology Company, told the Daily Mail.
The tower, industry sources said, was planned to come up on the Sheikh Zayed Road. The company did not respond to questions mailed by Emirates 24|7 despite several reminders.
According to Dr Fisher, each floor of the tower will take only six days to assemble around the core once permission is granted and the concrete structures are in place. Thus, the 80 floors will be completed in mere 480 days.
Dubai is already home to the 310-metre Cayan Tower, the world's tallest tower featuring a 90-degree twist, in Dubai Marina. It was build at the cost of over Dh1 billion.
The tower has been designed with swimming pools, gardens and even lifts for cars to park outside their apartments.
In a statement issued to this website in March 2011, the developer had said that it is keen to put the project back on track in Dubai with plans to unveil similar towers across the Gulf countries.
"The Dynamic Tower in Dubai is on hold. Of course, Dr David Fisher and our team would be delighted to have the tower in Dubai on track," the company had said.
However, the company had till then not secured funding for its Dubai project. Besides, it had not sold any apartment despite getting "many requests from all over the world."
The 420-metre building's apartments would spin a full 360 degrees, at voice command, around a central column by means of power-generating wind turbines.
The first 20 floors will be for retail space, the next 15 for a hotel, the next 35 floors will have residential apartments and the top 10 floors will have luxury villa-style apartments.
The company has announced plans to build one in Moscow as well and other cities include London, Milan, Paris, Rome, New York and Miami.
According to Daily Mail, each of the Dynamic Towers are designed to be self-sustaining and can generate electricity from wind and solar power. Up to 79 wind turbines will be fitted to each floor to generate enough energy to fuel the building's electricity.
Fisher also claimed that the buildings would be able to identify changes in climate and temperature and regulate energy through the building's surface.
Being an "intelligent" building, it will also be able to manage the internal temperature of rooms automatically - making it cooler in the summer and warmer in the winter, he maintained.

Follow Emirates 24|7 on Google News.