RTA awards contract for Dh2bn Dubai Water Canal project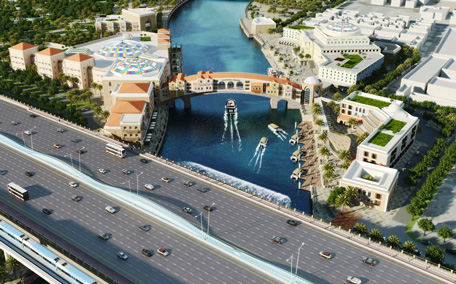 The Roads and Transport Authority (RTA) has selected the Parsons/Halcrow Joint Venture (JV) for the construction supervision of the Dh2 billion Dubai Water Canal project, the JV said in a statement.
The JV, whose initial scope of work — awarded in December 2006 — was for design, has now been awarded the next phase of the project.
The new scope of work includes elevating three major roads in Dubai, relocating utilities, and constructing the 2.8 kilometre long Dubai Water Canal, the JV said in a statement.
The project is split into three construction contracts, and Parsons is responsible for construction supervision for the first two packages related to the roads and bridges, while Halcrow will be responsible for the third package for canal excavation and marine works.
The first phase of the project includes elevating Sheikh Zayed Road (six lanes in each direction) and relocating utilities using micro tunneling to facilitate the canal construction.
"Once completed, the Dubai Water Canal Project will add 6 km to the Dubai waterfront and will attract many visitors," Guy Mehula, Parsons MEA President.
The project will connect the already extended creek from the Business Bay area all the way to Jumeirah beach, cutting through Sheikh Zayed Road, Safa Park, Al Wasl Road and Jumeirah Beach Road.
The bridge on Sheikh Zayed Road will be almost a kilometre long and will raise up to 8.5m, allowing luxury yachts and boats to pass through. As well, a number of marine transport stations, as well as jetties, will dot at various locations along both sides of the creek, enhancing water transport services in the city.
Ranging from 80 metres to 120 metres, depending on the locations, the canal will house various shopping, leisure, residential and commercial centres along both sides as well as four hotels, including a crescent-shaped building and up to 450 restaurants.
In December 2013, RTA announced that Mapa and Gunal Constructions have been awarded the contract to carry out the canal project, while Halcrow and Parsons were appointed as consultants.
Follow Emirates 24|7 on Google News.