RTA beefs up marine transit services, revises schedules of Dubai Ferry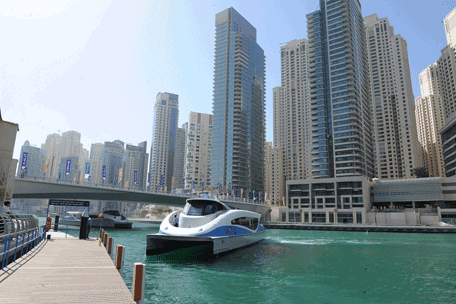 The Public Transport Agency, Roads and Transport Authority (RTA) has beefed up its service offering in a number of stations of Dubai Ferry at the Dubai Marina by setting up Customer Service Kiosks in the marine transit stations of the Marina Mall, Marina Walk, Marina Terrace, and the Marine Promenade. The Agency has also revised the operational timing of the Dubai Ferry to match the demand for this service.
"The Agency launched the said stations to mark the Public Transport Day on the first of November 2013 where the Ferry service was rejuvenated in the Dubai Marina and Dubai Creek," said Hussain Khansaheb, Acting Director of Marine Transport, RTA Public Transport Agency.
"The first journey of Dubai Ferry starts off at 11.00 am from Al Ghubaiba Statino to the Dubai Marina in a one-way service only. The (evening tea) journey, which takes about one hour, starts at 3 pm from Al Ghubaiba in the direction of the Floating Bridge and then moves in the direction of the Hyatt Regency Hotel and back to Al Ghubaiba Station. At 5 pm, (Enjoying the Sunset Scenery journey) for photography enthusiasts will move around Al Ghubaiba area and lasts about one hour.
As for the Dubai Ferry journeys starting from Dubai Marina, he explained: "The first trip, which is a one-way trip, kick starts at 11:00 am from Dubai Marina station to Ghubaiba station, while the Evening Tea trip, which last for an hour, starts at 3:00 in the afternoon from Dubai Marina area, where passengers enjoy the stunning views of the Dubai Marina. Another trip will set off at 5:00 pm to where photography enthusiasts will enjoy the view of the sunset within Dubai Marina area for a period of one hour."
The Acting Director of Marine Transport, Public Transport Agency revealed that "the Agency will probe the views of Dubai Ferry users about the possibility of changing the one-way two trips that start from Al Ghubaiba and Dubai Marina at 11:00 to round trips.
It is noteworthy that the Ferry is the latest and largest RTA's marine transit mode, used as an additional & fast transport means to serve new areas along with Dubai Creek, the coastal strip extending along Jumeirah Beach, Dubai Marina, Jumeirah Beach Residence and the Waterfront projects. This modern marine transit mode, which can accommodate one hundred passengers, measures 32 meters in length, 8 meters in width, with speeds of up to 24 knots per hour. The Ferry is characterized by high-quality & modern means of entertainment to serve passengers.
Follow Emirates 24|7 on Google News.