RTA, Dubai Police step up cooperation to boost roads, transit safety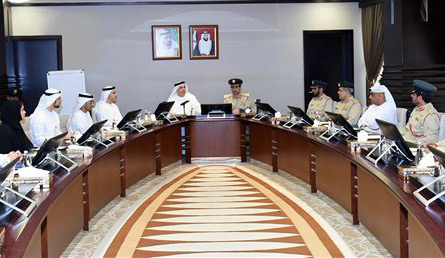 Mattar Al Tayer, Director-General and Chairman of the Board of Executive Directors of the Roads and Transport Authority, RTA, and Major General Abdullah Khalifa Al Marri, Commander-in-Chief of Dubai Police, have discussed the needs of the Dubai Police in the Enterprise Command and Control Centre, EC3, and the extension of the Dubai Metro Red Line to the site of Expo Project, Route 2020.
During a coordinative meeting between the two sides, they also discussed safety issues of Dubai Tram, management of traffic accidents and the reduction of speed limits on the Sheikh Mohammed bin Zayed Road and Emirates Road.
"The RTA and Dubai Police are mega government entities in the Government of Dubai and share a portfolio of roles and responsibilities that serve the strategic objectives and goals of the Dubai Government highlighted by secure, safe and smooth transport that adds to people happiness. These regular coordinative meetings offer an important communication channel for discussing new developments especially those relating to enhanced safety of roads and mass transit means for the benefit of citizens and residents of Dubai," said Al Tayer.
He commended the strategic partnership between the RTA and Dubai Police and the cooperation and support accorded by Dubai Police to the RTA citing their coordination in the traffic management and law enforcement as an example.
"These coordinative meetings are of huge benefit to the emirate and the joint business between the RTA and Dubai Police. They enable realising the shared objectives of providing security, tranquillity and happiness to citizens and residents," Al Marri added.
Discussions touched on the management of traffic accidents in Dubai with the aim of reducing the time taken in managing traffic accidents and restoring the traffic movement back to normal as quick as possible. Under this project, the RTA will provide logistical support needed by the Police in managing traffic accidents through opening alternative roads and introducing traffic diversion.
The two parties also agreed to lower the speed limit from 120 km/h to 110 km/h and reset the radar at 131 km/h on Sheikh Mohamed bin Zayed Road and Emirates Road, given the recurrent traffic and run-over accidents on the two roads.
Follow Emirates 24|7 on Google News.