RTA lifts about 4 million riders during Eid Al-Fitr holidays 2018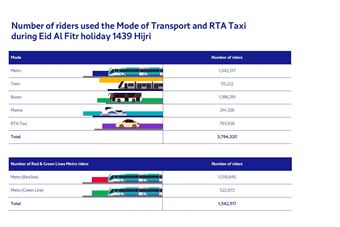 Official sources at the Roads and Transport Authority (RTA) in Dubai confirmed that the total ridership of public transport means and taxis of the RTA during Eid Al Fitr holidays 2018 had reached 3,794,320 riders.
It is also confirmed the metro riders had clocked 1,542,517 riders shared between the Red Line (1,019,845 riders) and the Green Line (522,672 riders). The Tram had lifted 55,222 riders and public buses had served 1,188,319 riders. Marine transit modes had served 214,328 riders and taxis operating under the RTA had lifted 793,936 riders during the said period.
It is noteworthy that RTA had prepared a comprehensive plan for the mobility of public transit means during Eid Al Fitr holidays, which normally experiences intense traffic movement. The plan aimed at achieving optimal integration between transit means and traffic systems to ease the movement of people celebrating the event from and to the places in question.
Follow Emirates 24|7 on Google News.