RTA provides bus rental service 'Tajeer' to private sector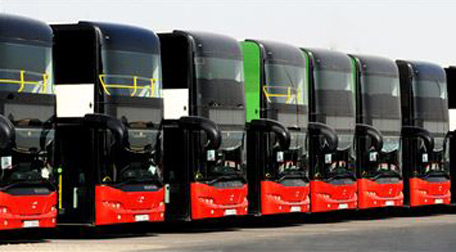 RTA's Public Transport Agency announced that it had made 960 bus rental contracts with interested parties in Dubai as part of its Tajeer service. The service offers a variety of buses for rent to lift employees of those entities, which are keen on supporting RTA's efforts towards diffusing the culture of public transport.
Basel Ibrahim Saad, Director of Buses, RTA's Public Transport Agency said, "RTA launched the bus rental service to external entities in 2012 offering a range of sophisticated & robust buses procured from the world's top bus manufacturers. These buses are offered for rent under short-term contracts (one day to six months), and long-term contracts (more than six months). So far, RTA has made 960 bus rental contracts. Government, semi-government entities as well as private firms, including tourist companies & hotels, can rent RTA buses through the link https://www.tajeer.rta.ae/index.aspx
"Standard or deluxe buses can be allocated, depending on the preference of the client and the purpose of use. The Agency deploys highly skilled and competent drivers who are well turned out and trained to give top customers service. RTA pays continuous attention to the performance & class of drivers who act as ambassadors of the RTA. Deluxe coaches have a seating capacity of 26-46 riders, standard buses can accommodate 34 riders, articulated buses can lift 48 passengers and double-deckers have seats for 48 travelers. RTA buses are fitted with advanced engines powered by a fuel with low-sulfur content, rendering them environment-friendly," explained Saad.
"These buses are controlled & monitored through the Operations Control Center (OCC), which boasts of the latest technologies in operation 24/7. In case of any fault or incident, the Agency is committed to provide relief buses. Additional services can be offered if the clients wishes so, such as the attendance control devices, internet, breakfast, newspapers and other services for offer on board," he noted.
"This service has been popular with hotels and tour operators in Dubai as it avails them a chance to deliver best-in-class services to tourists descending on the Emirate from the world over. These buses have unique features rendering mobility a safe, convenient and enjoyable experience," added the Director of Buses, RTA's Public Transport Agency.
Follow Emirates 24|7 on Google News.