RTA provides 'student parking' cards for college students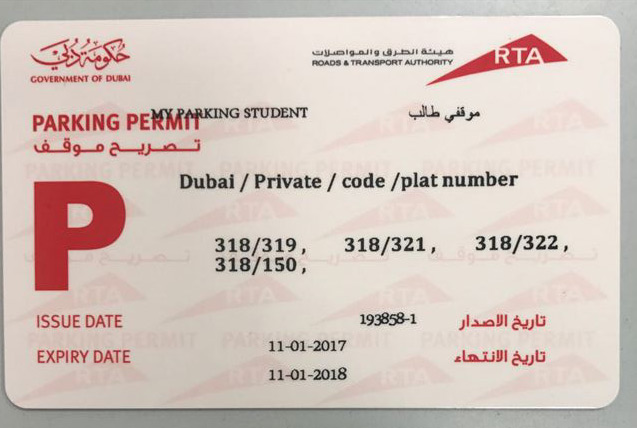 The Roads and Transport Authority (RTA) announced the issuance of a subscription card branded "Student Parking" as part of its community-oriented initiatives for this segment. The initiative targets students who are studying in colleges, universities and higher academic institutions in Dubai emirate with a view to realizing RTA's third strategic goal "People Happiness."
Usama Al Safi, Director of Parking at RTA's Traffic and Roads Agency said, "The gesture is part of RTA's initiatives and is in line with the Dubai Government drive to realize people happiness and deliver diverse and distinctive services to all community members. The 'Student Parking' card is issued to students of universities & higher academic institutions in Dubai and entitles them to use public parking lots around campuses within a 500-meter radius, bearing codes A, B, C and D, against a fee of Dh300 per three months.
"Documents required to obtain the Student Parking card are: approved certificate from the university or college proving that the applicant is registered as a student, the applicant's driving license, and a vehicle ownership card in the name of the applicant or any of his or her first or second-degree relatives. The Parking Card bears specific details for validation such as vehicle registration number, type of card, validity date, and authorized areas.
"A maximum of three vehicles can be added to a single card providing that it is used for only one vehicle at a time. The card should be displayed on the vehicle windscreen to avoid offences, and is invalid for use in reserved or designated parking slots for other entities or categories," noted Maitha. She called on university & college students in Dubai to make use of the Student Parking card to facilitate finding suitable parking and avoid delay in attending classes and exams by communicating with RTA's customer service via 8009090 or visiting the website (www.rta.ae).
Follow Emirates 24|7 on Google News.