RTA to open traffic diversions to upgrade Shandagha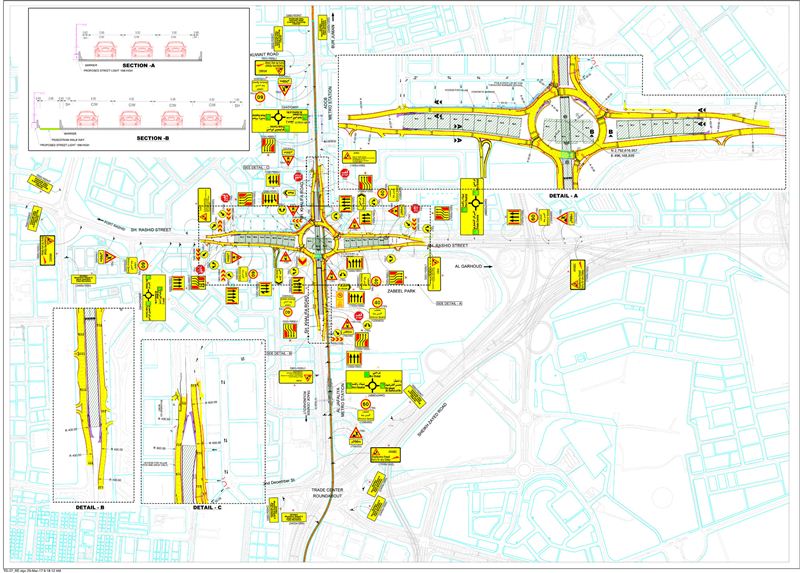 The Roads and Transport Authority (RTA) will open several traffic diversions in Dubai tomorrow and after tomorrow (April 14-15) to complete the vital projects it intends to undertake this year and early next year.
RTA has charted a plan to control the existing traffic and provide sufficient traffic corridors that ensure a smooth traffic flow without affecting the current traffic volumes, thus avoiding possible traffic congestions.
Engineers Maitha bin Adai, CEO of the RTA Traffic and Roads Agency, said: "Phase I of the main diversion of Shandagha Roads Improvement Project (Intersection of Sheikh Khalifa Road with Sheikh Rashid Road) will be opened. This diversion extends from Sheikh Khalifa Road towards the Trade Center R/A and vice versa; and from Al Garhoud towards Al Mina, through Sheikh Rashid Road and vice versa, with a total length of about three kilometers in two phases. The diversion will continue throughout the project construction phase up to early next year to maintain the safety of road users, and ensure the smooth traffic flow."
"Works in the development of Sheikh Khalifa-Sheikh Rashid Roads are on the go and the construction of bridges and tunnels is also progressing in concurrence with infrastructure services.
The project encompasses the construction of a flyover of two lanes in each direction on the Sheikh Khalifa Road for traffic from and to Al Karama without waiting at the light signal.
A 4-lane tunnel is being constructed to serve the traffic from and to Mina Rashid via Sheikh Rashid Road, which will ease the snarls at the junction.
"Construction works are also progressing in Phase I of another traffic diversion on both sides of Al Awir Road in the directions of Dubai-Hatta-Oman and vice versa involving bridge and road works as part of Al Awir Road Improvement Project.
Works will start in the improvements of Al Awir Road, and Nouakchott Road in the sector from Al Awir Road to Al Manama Road in Mid-April and continue up to the end of December 2017.
One lane of Al Awir Road will be closed for the traffic inbound from Hatta-Oman heading to Dubai.
In Phase II of this diversion, two lanes of Al Awir Road will be closed in the direction from Dubai to Hatta-Oman.
Motorists can use alternative and permanent roads, which form part of the project as shown in the drawings in order to ensure a smooth traffic flow for residents and road users during the improvement of Al Awir Road and entrances of the International City.

"The traffic diversions in the area aim at enabling the construction of multiple bridges linking directly with Nouakchott Road with Al Awir Road in the direction of Dubai.
Footbridges will be constructed for pedestrians crossing from both sides of Al Awir Road. Road users can head back in the direction of Dubai without having to go to the R/A of the Academic City, thus saving considerable time for residents and road users," added the CEO of RTA's Traffic and Roads Agency.
Bin Adai called on road users to abide by directional signs, use alternative roads and abide by the speed limits for their safety in realization of RTA's vision of Safe and Smooth Transport for All.
Follow Emirates 24|7 on Google News.