RTA unveils finalists of Dubai World Challenge for Self-Driving Transport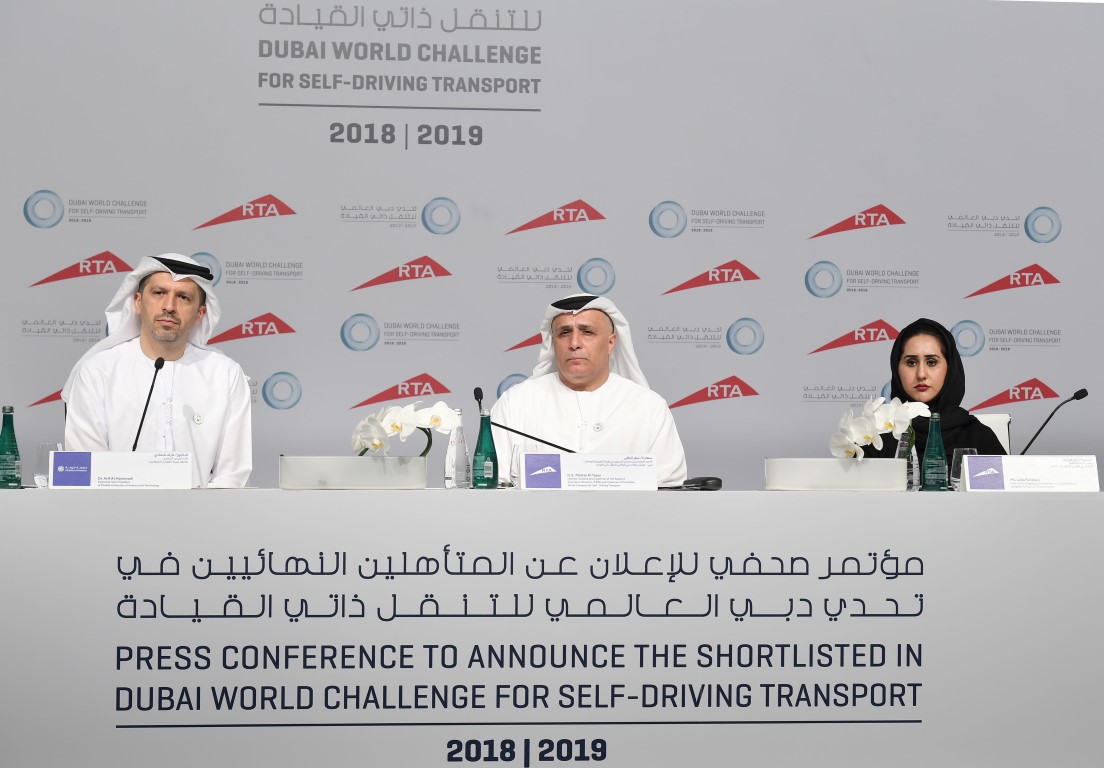 Mattar Al Tayer, Director-General and Chairman of the Board of Executive Directors of Dubai Roads and Transport Authority, RTA, has announced that the participation in the Dubai World Challenge for Self-Driving Transport had exceeded the target by 30%, by the end of registration phase. Al Tayer made this statement during a press conference held to announce the finalists of the Challenge.
Companies, universities, colleges and institutions submitted applications globally. Attendees of the event included Dr. Arif Al Hammadi, Executive Vice President of Khalifa University; Laila Faridoon, Chairperson of the Organising Committee of the Dubai World Congress for Self-Driving Transport; Dr. Steve Shladover, the International Jury Head of Dubai World Challenge for Self-Driving Transport; and Adel Shakri, Head of the Dubai World Challenge for Self-Driving Transport Committee.
The Leaders Category finalists included: Navya and EasyMile from France, Drive.ai from the USA, Westfield from the UK, Baidu from China, and 2getthere from the Netherland. The list of start-ups finalists included: Sensible from Finland, Derq from the UAE, and IAuto from Taiwan.
As for the local universities, announced finalists were: Dubai University, UAE University, Al Ain University of Science and Technology, and Abu Dhabi University. Amongst the international universities, Friee Berlin University in Germany, CMU in the US, Intelligent Systems Lab at Universidad Carlos lll de Madrid in Spain, and UTS in Australia represent the finalists of this category.
"The Challenge award amounts to more than US$5 million; US$3 million will be allocated to leader's category, US$1.5m to start-ups category, and US$600,000 to local and foreign universities (US$300,000 each). A team of international experts in the field of smart mobility will assess the finalists by several technical criteria," said Al Tayer.
"The challenge encourages the participants to cope with the existing challenges of the First /Last Mile, traffic congestions and the drop in the public transport ridership. Driverless transport has become a key pillar of RTA's strategy, and we are making every endeavour to make it a reality in Dubai," he added.
Finalists will be subjected to intensive tests in Dubai in 2019, and an international jury panel will review all submissions to select the winners of the inaugural edition of the Challenge. Winners will be honoured during the first edition of the Dubai World Conference for Self-Driving Transport scheduled to be held in October 2019.
Al Tayer also praised the Dubai World Challenge for Self-Driving Transport partners: Telecommunications Regulatory Authority, Union Properties, Meraas, Dubai Silicon Oasis and Dubai Future Foundation.
Follow Emirates 24|7 on Google News.