Safety with Emirates24|7: Texting and driving can be fatal [video]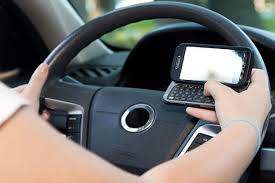 It's not uncommon in the UAE to spot drivers carelessly juggling between their smartphones and steering wheel, not understanding the deadly impact it could lead to.

Driving home this point, rather dramatically and emphatically, is 14-year-old Dubai resident Charlie Cracknell's short film - 'Safe driving save lives'.


At 3.52-minutes, the short film traces a young man's drive to work and how his smartphone turns into a possible threat to his life.

"Text messaging makes a crash 23 times more likely," reads the opening message of the film.



Within a couple of minutes, Charlie establishes how shifting your eyes even for a few seconds off the road can have drastic consequences.

"I remember seeing a woman texting while driving, and she had kids in the back seat. Her casual behaviour shocked me," he told 'Emirates24|7'. "That was the defining moment."

"This isn't just an UAE problem," Charlie stresses, "teens all over the world find it OK to text and drive."

He is hoping that his short film, which was made for the THIMUN Qatar Northwestern Film Festival, will make drivers think before using their phones while driving as it endangers not just their lives, but also those of others.

The short won nominations in the Best Picture and Best Editing category at the Doha festival.

Charlie claims he decided to create an impact without using gory images, as is the norm in most road safety shorts, because he wanted young kids to watch his film as well.

"This is the first time I am making an advocacy film on a global issue, and it was quite challenging, but I had my parents and school backing me all through."

He's hoping to screen his film at other Dubai schools and spread awareness.

The stats released by the Dubai traffic police show that 40,957 motorists were fined between January and November, 2014, for using their mobile phones while driving. The fine is Dh200, plus 4 black points.
Follow Emirates 24|7 on Google News.